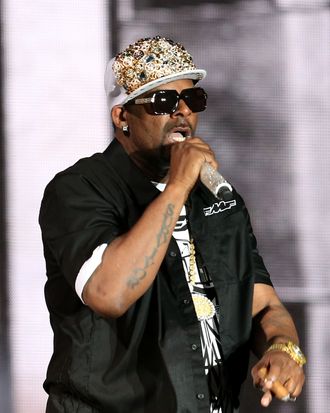 R. Kelly.
Photo: Christopher Polk/Getty Images for Coachella
Last week, BuzzFeed published an investigation alleging that performer R. Kelly is holding a handful of women hostage in a sex "cult." According to BuzzFeed, Kelly is controlling the women's sexual activity, physical movement, and contact with the outside world.
Kelly has since denied all the accusations, and Joycelyn Savage, one of Kelly's alleged captives, insists she is not being held against her will.
But now, another young woman has come forward to recount her own "creepy" experience with the performer. The unnamed woman tells TMZ that Kelly convinced her to pose nude and sent her a one-way ticket to join him alone in Los Angeles.
The woman tells TMZ she originally met Kelly backstage at one of his shows. In a series of texts, the woman says Kelly promised to help launch her career as an actress/model. Kelly then allegedly invited the woman to his Georgia home and encouraged her to "wear something sexy." When she arrived, the woman says "it got really creepy." She says no phones were allowed and that she was escorted to Kelly's bedroom. Per TMZ:
"The woman says Kelly asked her to strut around and pose like a model … and convinced her to take sexy photos. She says he paid her $200 when she left and told her to use it to buy black lingerie, heels and red lipstick for her next visit … which she did. We're told she went back to R. Kelly's place 2 more times – alone – but each time he got more aggressive and controlling … even guilting her into posing nude. She says they never had sex."
Reportedly, Kelly then sent the woman a one-way ticket to join him alone in L.A. But the woman, feeling uneasy, told her mother, who quickly stopped the trip. Now, she says she's the one who got away.
Kelly has not responded to TMZ's latest request for comment.