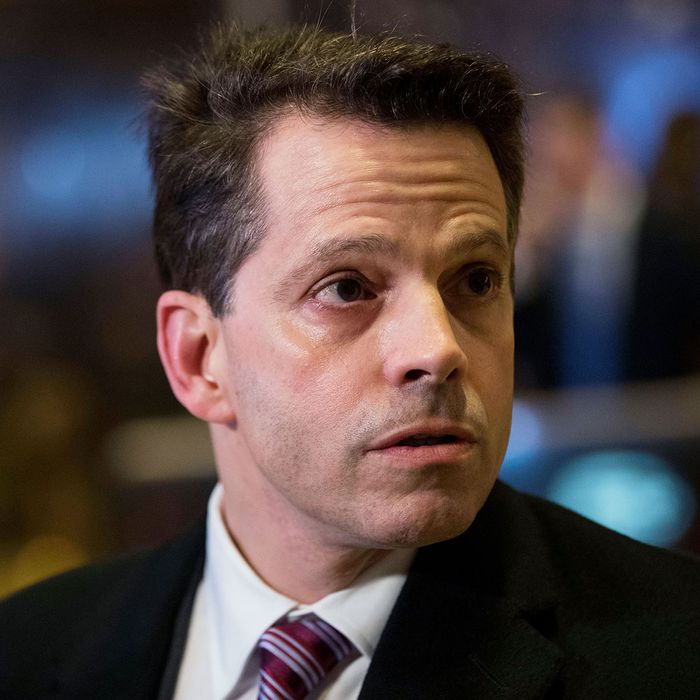 Anthony Scaramucci, or the Mooch, is poised to be Trump's new director of communications.
Photo: 2017 Getty Images
Sean Spicer capped off a week full of Trump administration drama with the announcement of his resignation, and although the news took many by surprise, it didn't take a lot of digging to figure out his reasoning. According to multiple sources, Spicer wasn't a fan of Anthony Scaramucci, the Republican donor and Wall Street hedge-fund manager who as of Friday is poised to become the White House's new Director of Communications. Here's what you need to know about Scaramucci, who's widely known as "the Mooch."
Okay, who is this dude? Scaramucci is a 53-year-old Long Island native who, as he tells it, grew up in a "big Italian family," and was a "bad student" who only cared about "chasing girls." He attended Tufts University and then Harvard Law, and from there he got a job as an investment banker at Goldman Sachs. He was fired after a year, but re-hired on the sales team. He eventually left to start a hedge fund, which he sold before starting SkyBridge Capital, a company that invests in other hedge funds for a fee.
While he was managing partner at SkyBridge, Scaramucci organized lavish parties for "industry participants" that involved Sarah Palin, Al Gore, and Maroon 5. And he made headlines in 2010, when he stood up during a town-hall meeting and asked President Obama, "When are we going to stop whacking at the Wall Street piñata?" He appears frequently on TV and is reportedly a longtime friend of Sean Hannity. In short, he seems like Trump's kind of guy.
For the Mooch, this is take three at a job in Trump's White House. Back in January, he sold his stake in SkyBridge for an estimated $100 million in anticipation of a White House job … that never materialized. According to Politico, Scaramucci has been floated for three other jobs since Trump took office: "A Valerie Jarrett–like liaison role with the business community, ambassador to the Organization for Economic Cooperation and Development in Paris, [and] senior vice-president and chief strategy officer at the Export-Import Bank." None panned out, but according to the Washington Post, this gig is all but confirmed.
Team Javanka is backing him. According to Axios, Jared Kushner, Ivanka Trump, and Hope Hicks were all in favor of Scaramucci's appointment. But Spicer's abrupt departure is enough to show that at least some other White House staffers are less thrilled. Trump reportedly held a meeting Friday morning with Chief of Staff Reince Priebus and Chief Strategist Steve Bannon, both of whom oppose the appointment; Axios says they could try to block or delay Mooch's hiring.
His relationship with Priebus is especially fraught; according to the Washington Post, Priebus was the one who kept Mooch out of previous White House jobs, and Scaramucci has a "particularly crude nickname" for him. Both Priebus and Spicer "vehemently objected" to his appointment as director of communications, in part because they don't think he's qualified. In fact, the plan to install Scaramucci reportedly "came as a surprise" to Priebus, who found out after the fact.
Trump admires him. The president appreciated Scaramucci's defense of him on cable news, and "would ask aloud why the financier wasn't working for him," according to Axios. When Scaramucci managed to get a retraction out of CNN for a story linking him to the Russia investigation, Trump was reportedly even more impressed.
But he hasn't always been a Trump guy. Scaramucci initially backed Scott Walker in the 2016 Republican primary, and when Walker dropped out, he got behind Jeb Bush. In fact, he periodically insulted Trump on cable TV, telling Fox Business Network, "When I talk to Donald and he talks to me, I guess we don't understand [each other] … I may need to get an interpreter in the room to talk to Donald."
He also bashed Trump for speaking out against "hedge-fund guys." "I don't like the way he talks about women, I don't like the way he talks about our friend Megyn Kelly, and you know what, the politicians don't want to go at Trump because he's got a big mouth and because [they're] afraid he's going to light them up on Fox News and other places," he said. "But I'm not a politician. Bring it. You're an inherited money dude from Queens County. Bring it, Donald."
He added, "This nonsense is going to end, and I predict it'll end before Thanksgiving."
He's great at acronyms. "I am a total shit-stirrer," he once told New York's Jessica Pressler. "My middle name could be Shit-stirrer, except then my initials on my shirt would be A.S.S., and I can't have that."
Congratulations to A.S.S. on his reported new role.