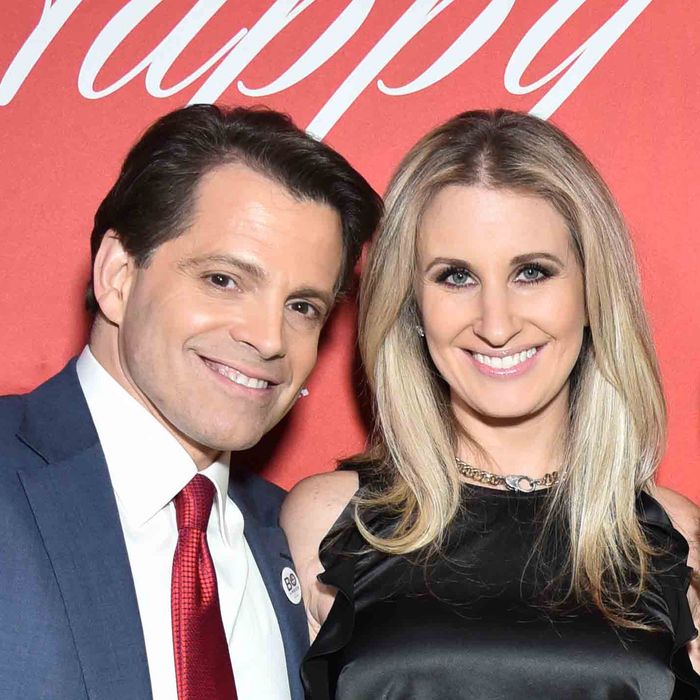 Anthony Scaramucci and Deidre Ball.
Photo: Jared Siskin/PMC
Anthony Scaramucci's wife of three years, Deidre Ball, has filed for divorce from the White House communications director, "Page Six" reports.
"Page Six" cites multiple sources who say Ball, who previously served as a vice-president of investor relations for the firm Scaramucci founded, SkyBridge Capital, was "fed up with his ruthless quest to get close to President Trump," who she reportedly despises. The couple started dating in 2011, and are believed to have gotten married in 2014 — his second marriage, according to "Page Six."
"Deidre has left him and has filed for divorce. She liked the nice Wall Street life and their home on Long Island, not the insane world of D.C," a "source" told the gossip column. "She is tired of his naked ambition, which is so enormous that it left her at her wits' end. She has left him even though they have two children together."
Scaramucci had reportedly been "hell-bent" on securing a spot at the White House, after having been "cock-blocked" (as he told The New Yorker in an unhinged rant published Thursday) by Reince Priebus for the first six months Trump was in office. A "friend" told "Page Six," "Diedre is not a fan of Trump, and she hasn't exactly been on board and supportive of Anthony and his push to get back into the White House."
The "friend" went on to tell the gossip column, "Anthony is focusing on his children, his work for the president and the American people. There is nothing more important to him. I don't know who Deidre thought she was marrying but anyone who knows Anthony knows he's an ambitious man."
Ball could not be reached by "Page Six" and a representative for Scaramucci declined to comment, but we're sure he has a lot to say about the split.