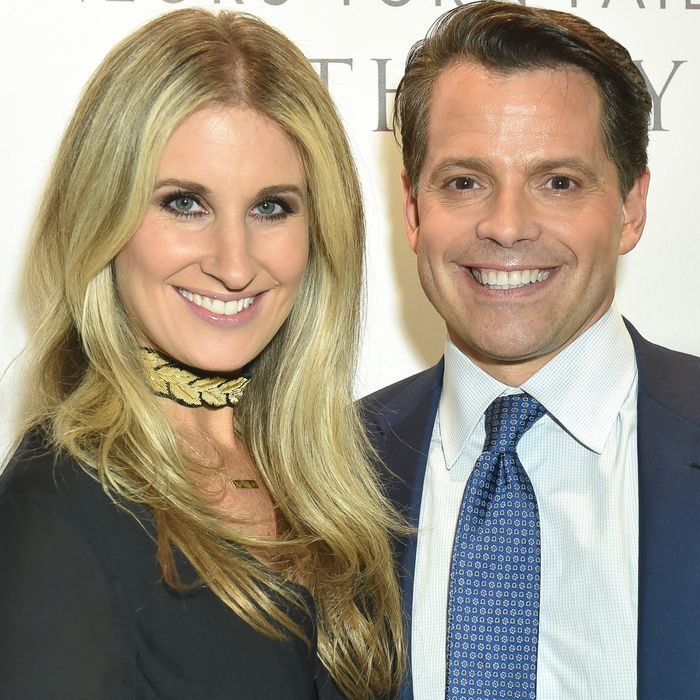 Deidre Ball and Anthony Scaramucci in 2016.
Photo: Jared Siskin/Jared Siskin/PMC
Anthony Scaramucci's estranged wife, Deidre Ball, really doesn't like her husband, according to a bombshell new report in Page Six.
Ball reportedly filed for divorce three weeks ago, when she was nine-months pregnant. Scaramucci wasn't at the hospital when she had their son — he was in West Virginia at the Boy Scout Jamboree with President Trump. The Mooch reportedly didn't meet the baby, James, who was in a neonatal-intensive-care unit at North Shore Hospital, until four days after he was born. (But he did text his wife: "Congratulations, I'll pray for our child.")
According to Page Six, the couple split four or five months ago. They have another son, Nicholas, born in early 2014. The pair met when they were both working at Scaramucci's hedge fund, SkyBridge Capital, and married in July 2014. Both of their previous marriages ended in divorce.
A source told Page Six Ball had simply reached her limit: "[Anthony] tells her she's not that smart, that he's out of her league." (Someone close to Scaramucci reportedly countered that she was actually abusive: "She would say, 'You're a grifter, you're this.' She would mock him for being a Trump sycophant.")
So far, neither President Trump nor Scaramucci have publicly commented on the story, and the communications director suggested on Twitter he wouldn't be commenting publicly on family matters. Although we imagine he won't stay silent for long.