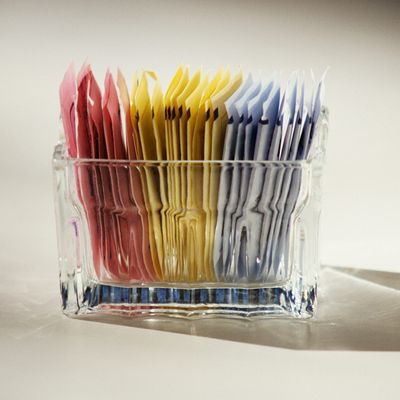 The pile of data that suggests that artificial sweeteners are bad for you keeps getting larger.
A recent study in the Canadian Medical Association Journal found that drinking one drink with artificial sugar a day can lead to a higher risk of weight gain, obesity, diabetes, and heart disease.
Unfortunately for the Diet Coke lovers among us, the study's methods are sound. Per Time, "The studies followed more than 400,000 people for about ten years. Seven of the studies were randomized controlled trials, a type considered to be the gold standard in scientific research."
However, the sweeteners themselves may not be the cause — it could be another, currently unknown factor. The study says further research is needed to "fully characterize the long-term risks and benefits of nonnutritive sweeteners."
Study author Meghan Azad, assistant professor in the department of pediatrics and child health at the University of Manitoba in Canada told Time, "More research is definitely needed," says Azad. "You need a long-term study." The body of research available suggests artificial sweeteners are not helpful in losing weight.
"I think there's an assumption that when there are zero calories, there is zero harm," said Azad. "This research has made me appreciate that there's more to it than calories alone."