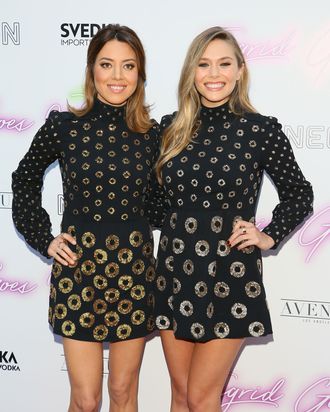 Aubrey Plaza and Elizabeth Olsen.
Photo: Getty Images
Most celebrities wouldn't be caught dead in the same outfit as their peers — especially not one of their co-stars — on the red carpet. But not Aubrey Plaza and Elizabeth Olsen.
At the Los Angeles Premiere of their new film Ingrid Goes West, the two actors were all smiles as they stepped out in nearly the exact same fall 2017 Marc Jacobs dress, which appears to be covered in frosted doughnuts. Or maybe we're just hungry?
Besides being a fun red-carpet troll, Plaza and Olsen's outfit choices make sense in the context of the film, which tells the story of Ingrid Thorburn (Plaza), who moved out to Los Angeles to essentially stalk her Instagram obsession, the socialite Taylor Sloane (Olsen).
Does this mean Plaza will copy Olsen's outfits for the entire press tour?