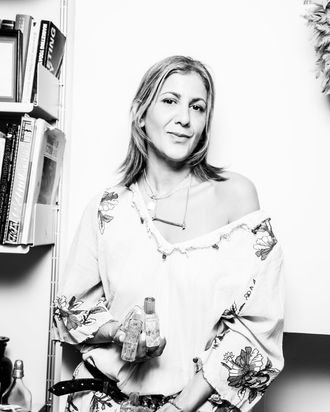 Azzi Glasser.
Photo: Courtesy of Azzi Glasser
"All my perfumes will make you feel better," Azzi Glasser says to me assuredly. Her voice is warm, her British accent sounds posh, and her tone is throaty, making it seem like she's across the hearth from me rather than 3,500 miles away in London and speaking by phone. Glasser is so sure of her abilities that it's even affected the way she thinks about mortality. "I don't want this to happen, but if I got run over tomorrow, I would be so happy at least knowing I brought joy into people's lives," she says. Not many people are that confident in their job.
Although most people would call Glasser a perfumer — one of the U.K.'s most famous, in fact — she considers herself to be something more rarefied: a "perfume designer" who creates individual scents that speak to the true essence of a person. Among the people she's done this for have been Helena Bonham Carter, Orlando Bloom, Jude Law, and Johnny Depp (each one costs 15,000 pounds). The Daily Mail spotted Depp and Glasser together at Glastonbury earlier this year, and Depp told Vogue U.K. that she's a master at distilling the "perfect essence of a character in a scent."
"At the age of 49, Depp said to me, 'I've never found a scent that really speaks to me.'" Glasser told me. That was, until he met her (and presumably before he became the face of Dior Sauvage).
Not everyone has 15,000 pounds, however, so to create something more accessible, Glasser made the Perfumer's Story, a collection of 11 scents with names like Amber Molecule and Mr. Vetiver, all priced at $80 a candle or $150 a bottle. There's even one called Old Books, which Glasser says is meant to recall the scent of "opening an old book and having it lay flat in your hand." It's rumored to be a favorite of Benedict Cumberbatch's.
The Cut talked to Glasser about how she creates the scent of rain, why you should never date anyone whose scent you don't like, and why perfume is particularly important in Trump's America.
What is your first scent memory?
Rain on earth. I re-created the smell. I was born in England, got separated from my parents when I was little, and then sent to India where I lived for four and a half years. When it rained in India, it really rained. It was like a monsoon. The difference between rain in India and England is that in India, all the kids go out to play in the rain. Here, we shut them up inside the house.
My first memory was when I came back to England. In London, all the color was gone. It had no smell. With all these tall buildings, I thought they had sent me to prison. I went from the beach at Goa to London. David Cameron came to me a few years ago, and asked me to create the smell of London for a Great Britain campaign. I recreated the scent of rain of earth because of my memories and because whenever I speak to him I ask, "Is it raining in England?"
These art projects like that that I do aren't commercial and keep me sane. So the scent I made smells like wet mud, grass, rain, and the exact smell of when rain hits pavement.
Have you always been interested in perfume?
I had an interest for smells at a young age. As most girls do with their mothers, I would pick petals from flowers. I liked sniffing all of my mom's lipstick containers and all the perfumes. I found something quite nostalgic about it and comforting. I also liked sniffing my mom's handbags. She had two suede bags — one black and one brown. The brown one was a bit more comforting than the black one; it probably just looked softer. But inside was makeup, perfume, and money and I just felt like the perfume felt and smelled different in there.
You are known for making bespoke fragrances. What have you learned about human nature from making such personalized fragrances?
Everyone is different. No one asked for the same thing anywhere. Whether you're creating a scent for Depp or a princess in Saudi Arabia, they have their own story to tell. You never see the same person in any way or form.
When I make a scent, I just want to know about you. Your life, your history, what you're about, and how you want to be perceived in the outside world. It's the same as why you have your hair done the way you have or your shoes or accessories — they're representing you. If you look right next to you, you are not like anyone else. You're an individual.
Scents are wonderful — especially right now, with the ridiculousness going around the world. I mean, Donald Trump cannot be for real. The thing is, you can't do anything about the world. But what you can do is create your own world. The one thing is when you create your own world, you can bring happiness to people. Scents can help you take away the feelings you have about anger, being lost, feeling upset. You have to create your own bubble and surround yourself with scents and people who will make you feel happy and brilliant.
Many people praise you for being able to capture their "essence." How do you do it?
When people come to me, they don't know what they want. That's why they come to me! I work very differently. All perfumers go to pretty much the same schools. But I'm like a rebel. In school, you learn the molecular science of what goes into a scent. Your creativity is what you bring and that can't be taught. I work psychologically. A sense of smell is a hidden smell; it comes from the subconscious. It's not something you're taught.
I once sat at a dinner party next to a director [Jonas Akerlund]. I told him what I did and he said, "I hate perfume." I asked him why he hated it so much and it says it smells like when you're in a duty-free. I agree, I don't think anyone likes that. So I asked him what type of scents he did like. He said, "I like the smell of a ditch." So I made one that literally smelled like a ditch. It ended up being more of a Mulholland Drive ditch than a Camden Drive ditch.
Everyone smells different. Your head smells different than under your arms and your belly to all the way down to your feet. You give off different smells all along your body. But nobody thinks about it, you've not been programmed. Sometimes I feel like I'm talking to a brick wall. When you do a scent right, you hit a nerve. In a way, having the right scent of manipulation — it can change a circumstance or emotion. You're feeling unloved, I'll make you sexy. It's all about how one is feeling. Smell can turn people around and it's an energy that can be changed quickly.
We are all animals. Smell should be our primary sense and that's how I live my life. Some might think that's weird. I'm not going to be with someone who doesn't smell good. When they smell absolutely amazing, I don't care what they look like — it's what they smell like.