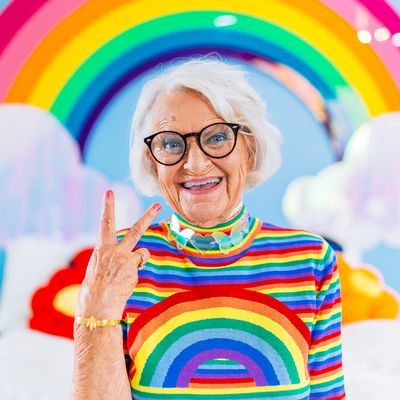 Baddiewinkle.
Photo: Ryan Hall
Helen Van Winkle is an American treasure, known to 3.1 million Instagram followers as Baddiewinkle. The 88-year-old's Insta bio and unofficial life motto? "Stealing your man since 1928." The Kentucky-raised great-grandmother talked to us about her new book, Baddiewinkle's Guide to Life, out today from Harper Design.
In photos, she drinks a Miller Lite in a mesh bodysuit with a leopard-print beret, puckers pink lips in a fuchsia fur coat, and takes a puff from a bedazzled bong in fur slippers. Alongside the fashion shoots, she offers wisdom on aging, fashion, and spirituality. "Some people do Botox, others drink vitamin elixirs," she writes. "Me? I'm old-school: sunshine, rainbows, and peace, baby. Love keeps you young."
The Instagrandma shares her style advice, secrets to aging gracefully, and celebrity crush (Drake!) below.
What does style mean to you?
You can be 95, and if you see something you like, put it on, wear it, and if you've got it, flaunt it. That's my definition of style — you don't have to keep up with the times, you don't have to wear gray or black. Put something vibrant on, feel vibrant.
What's your secret to aging gracefully?
You do all things in moderation. Hard work will not hurt you. I have always been a really hard worker — I've kept up a six-acre farm for 15 years by myself. Hard work is good for you, so don't sit down on your butt. Keep moving. I'm on the go all the time, even though I have to walk with a cane.
If your book were adapted into a movie, who would you want to play you?
Lana Turner — I know she's dead, but she was one of my favorites — or Rita Hayworth. I like the old movie stars.
Who are your style icons?
Miley Cyrus and Katy Perry — a lot of those girls, they're just fabulous. I've met Miley, and I think that kid is something else.
What's something you never leave the house without?
My phone. And I always have a comb, lipstick, and a mirror in my purse, so I can pretty up if I need to. Another thing I don't leave the house without anymore is my bedazzled cane. It's so beautiful, you can't imagine. I get a lot of compliments on it; everyone loves it.
What labels do you like to wear?
The Ragged Priest, Nova. There are a lot of different brands I like. They often make things just for me.
Your celebrity crush?
Mark Harmon from NCIS and Drake. I really like Drake — I like his music and I think he's a really nice guy; I've seen him out and about several times.
If you could give a piece of advice to your 20-something self, what would it be?
Try to live every day as if it were the last. I will be 89 on July 18, and I'm having a great time. I would tell myself to keep on keeping on, and this is my philosophy: Always be kind to everyone you meet. Smile at everyone you meet, and you'll get a smile back. It makes you feel good when you're out and about. I think I'm just gonna keep on doing what I'm doing and live every day as if it were the last, and be the best person I can be. Just be me.