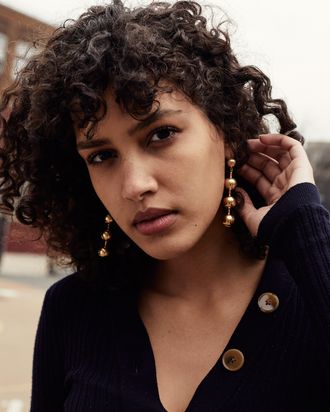 Once in a while, a trend appears on the runway, trickles down to your local mall, and then lodges itself firmly inside your brain. Now Trending is our weekly roundup of where to buy that look that's been haunting you.
The last few years have seen plenty of earring trends. There was the oversize, single style plucked straight from runway shows like Dior, Louis Vuitton, and Céline to name a few. Then came the rise of delicate studs, which were meant to be scattered all over the ear. And now, this summer brings another very distinctive pair of earrings. You might have seen them all over Instagram: They're long, dangly, and feature anywhere from two to six circles. The original is by designer Rebecca de Ravenel, though like every trendy item countless other places have made their own version. And for good reason: They give your outfit that special finishing touch, but don't look so outlandish that you feel silly wearing them. If you're looking to get a pair for yourself, scroll ahead for seven versions at every price point.
If you don't want to spend a lot, here's a version that features six swingy balls for only $12.
Neutral but not boring, these would be great for the office.
A fun choice to wear on vacation, or brighten up a plain LBD.
These aren't as long as the other ones on this list, but the flat, silver discs catch the light nicely.
If you want a pair that doesn't look like the metal ones everyone else is wearing, these are made from beautiful blue marble.
But if you do want to splurge on a very classic pair, these are quite stunning.
For the purist who wants the original creation, this multicolored rhinestone style will never be mistaken for a knockoff.
If you buy something through our links, New York may earn an affiliate commission.