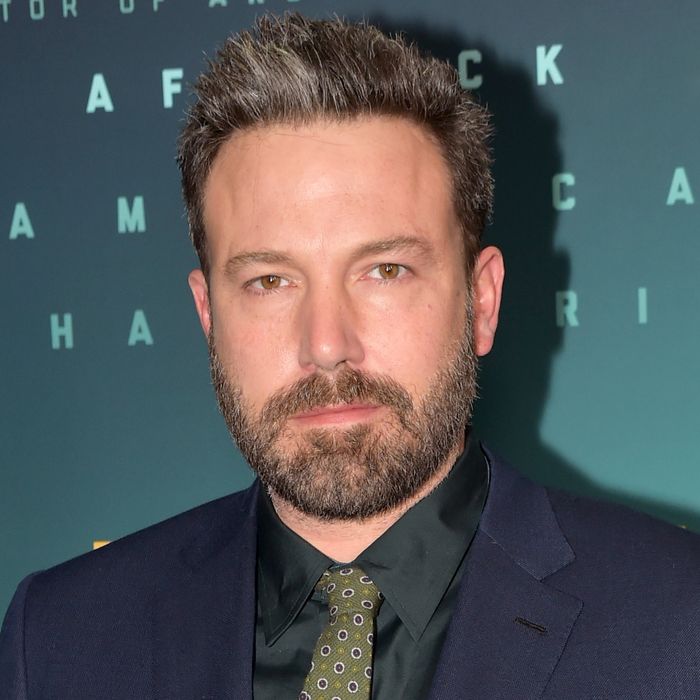 Ben Affleck.
Photo: Theo Wargo/Getty Images
In April, just four days after Jennifer Garner filed for divorce from Ben Affleck, TMZ teased that Affleck was "now dating someone, though 'not seriously.'" What followed were a series of boring reports from People about the former couple's post-split life — including visits to Disneyland and cat cafés, and the fact that Affleck has officially moved out — which led us to believe that an announcement about his new girlfriend would be forthcoming. And finally, the wait is over: Affleck is dating Saturday Night Live producer Lindsay Shookus, and he reportedly has been for a while.
Us Weekly reported on Friday that Affleck and Shookus have actually been romantically involved since 2015, when he was still married to Jennifer Garner. Although E! reported that the pair were "in the early stages of their relationship" and "taking it slow," multiple sources told People that Shookus and Affleck started having an affair in 2013, which is two years before Affleck and Garner announced their separation (and when Shookus was still married to former SNL producer Kevin Miller).
An insider "close to Garner" told Us Weekly, "They were not casually dating — they were having a full-blown affair. They were sleeping together, sending each other cute texts and meeting up whenever they could." People reports that Shookus and Affleck would meet up "every time he came to New York City and other places, too."
News of Affleck and Shookus's relationship broke early Friday, with E! publishing pictures of the pair out in Los Angeles on Thursday night, in which the actor had his hand on Shookus's back. It was also revealed that Shookus flew to London last week to meet up with Affleck, where he was filming reshoots for Justice League. A source told Us Weekly that the SNL producer spent four nights with Affleck, and E! revealed that the couple saw a play together (Sam Mendes's Ferryman) during their hang across the pond. Later that afternoon, images of Shookus leaving Affleck's new house back in June were published by People.
Although a source "close to Affleck" told Us Weekly that the actor and SNL producer have only been dating for three months (which, coincidentally, is when Garner filed for divorce), the "Garner source" told the publication that both Garner and Shookus's ex-husband Miller reportedly found out about the relationship in 2015. The "Garner source" said, "They were devastated when they found out about the affair."
Regardless of the timeline, this is now Affleck's first official post-divorce relationship since dating his kids' former nanny Christine Ouzounian, with whom he denied having an affair.
This post has been updated throughout.