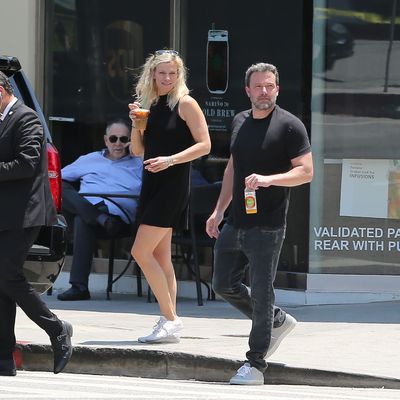 Lindsay Shookus and Ben Affleck in Los Angeles.
Photo: /X17online.com
It has all the makings of a great romance. She's a fit, attractive, 37-year-old-woman, from a tiny American town, working hard in New York City. He's a 44-year-old guy reportedly with an alcohol — and maybe gambling — problem, and a penchant for canoodling with the nanny. Plus, he has a famously spurned ex-wife and three cute kids. So, pasta dinners aside, how's it going?
According to Page Six, pretty well. She's reportedly fine with all the media attention.
"She's enjoying it," a source told Page Six. "She never wanted to be on camera, but she's comfortable getting a lot of attention."
Meanwhile, he likes that she's a regular girl. "He's never really dated a regular girl before," a source told the Post. "He's always gone for high-profile women. He wants to date people that know and understand his life. When you're a TV producer, you understand that [Hollywood] life."
Plus, according to sources, she's a "movie buff," which he finds "exciting."
"Ben really enjoys [Shookus's] company," another source said. "They have a really good time together. She's very smart, and they share a lot of the interests. She's a movie buff, so that clearly always excites him."