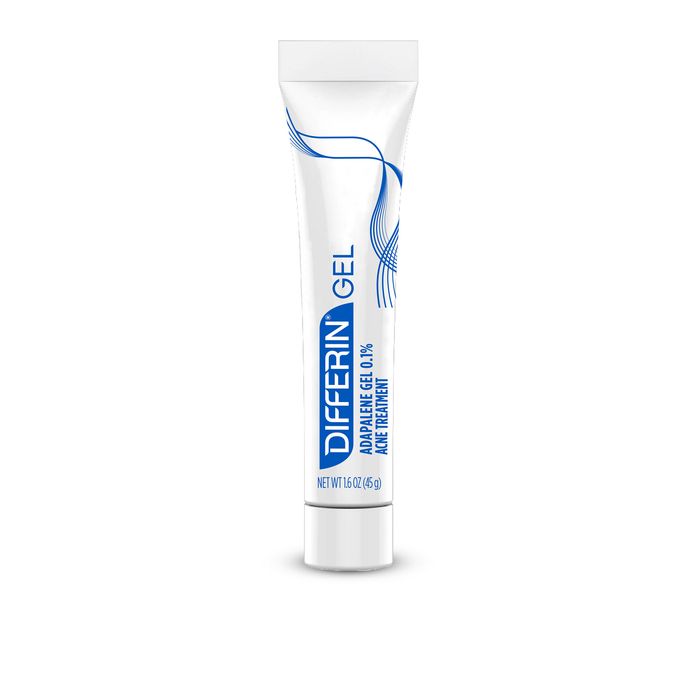 While acne is always obnoxious, it was particularly awful to me in college when late nights, stressful exams, and general debauchery were the order of the day. Back then I was no skin-care savant: I wore sunscreen but cleansed with gels and astringents that quickly exacerbated my bumpy skin. But then a trip to the dermatologist introduced me to Differin gel. And though I continued to treat my skin rather poorly with the aforementioned stressors, my face completely cleared. Why did I ever stop using this thing?
Well for one, Differin, which uses a potent retinoid, used to be available only via a prescription. I'm not immune to laziness, which is why the annual dermatologist appointments to re-up my prescription began petering out after several years, until eventually the miracle gel fell to the back of my mind. But ho! Times have changed, and with Differin's introduction to the over-the-counter market, my appreciation for the drug has reemerged.
Though Differin is housed in a tube, it is not a pimple spot-treatment. You aren't meant to use a huge glob of the gel either. Instead, as dermatologist Melissa Levin explained to me, take a pea-size amount, or the length of your fingertip to the first line in your middle finger, and dab the gel equally throughout your face. Then using both hands, spread Differin into a thin layer evenly over your skin. Do this daily, either at morning or at night.
Employing a synthetic form of retinoid known as adapalene, Differin prevents pores from clogging — it also reduces redness and inflammation. That's the good part. What makes Differin a tough sell is that it doesn't work terribly quickly. In fact, two months might pass until you start to notice results. There's also a tricky period experienced by some after two weeks or so of use known as "retinization," when skin becomes noticeably irritated. It'll make you want to stop treatment altogether, but you'll have to keep trudging forward.
I experienced fewer breakouts around week six, and didn't observe any irritation during the retinization process at all. Aside from its over-the-counter availability, what makes Differin ideal is that it's nondrying and — because it doesn't pill or flake — it can be used under any moisturizer or foundation without incident. Contrary to retinoid folklore, you can wear Differin during the day without draining the gel's efficacy or damaging your skin (an older version of prescription retinoid was photosensitive, which explains the fear). If the .1 percent over-the-counter gel doesn't completely stifle your face bumps, a more potent form via prescription is also available. But for most, the drugstore-strength version is enough. It certainly is for me.