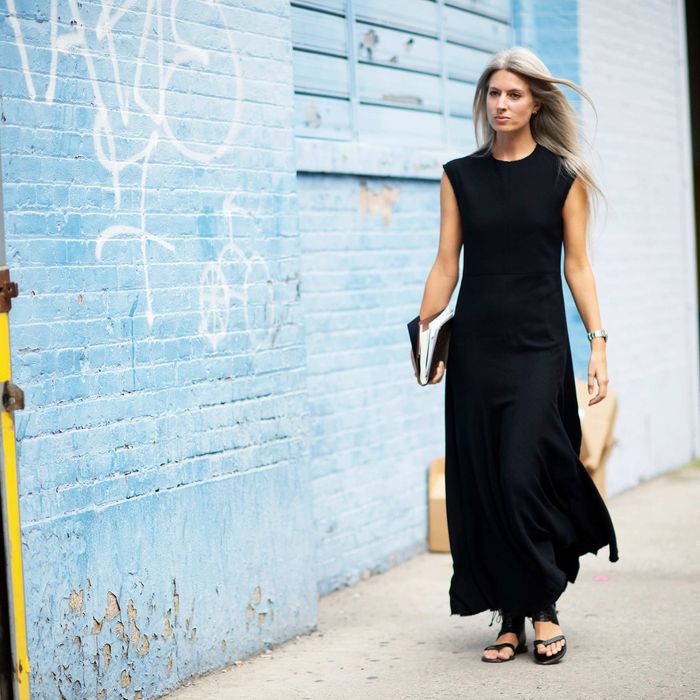 Figuring out what to wear to work shouldn't be a bore. To make your weekdays easier, welcome to Business Casual. Every Wednesday, we'll highlight the best office-appropriate clothes, whether it's for the job you have or the one you want.
There are few things that a summer hater (like myself) and a summer lover (most of the world) can agree on. Cheerful, bright dresses? I'll pass. Whimsical beach bags? No thanks. But there is one piece of clothing we both appreciate, even on the most sweltering of days: a good black dress. They're the most dependably stylish item in your closet, especially when it comes to figuring out what to wear during the week. Throw one on with a pair of sandals or pumps and you instantly look pulled together, professional, and ready to take on the day — even if it happens to be 100 degrees with humidity to boot. Scroll down to shop some of our favorites, a few of which are on deep discount.
The bell-sleeve trend isn't the most work-friendly but this one cuts off at the forearms, making it easy to type.
Original Price: $70
Do you hate fumbling around your back to fasten a dress? You don't have to with this style — it's fitted to the body and slips over your head easily.
Superfine pleats and a delicate little cape detail in the back make this dress look way more pricey than it actually is.
Summer is caftan season so why wouldn't you find a work-appropriate one?
An easy wrap dress in classic black is a smart staple to have in your closet.
A few seasons ago Céline made a simple long column dress that ended in a flurry of fringes. This one has a similar albeit more subdued vibe at a fraction of the cost.
Sale season is your friend for finds like this Acne black dress that's 60 percent off.
Original Price: $470
Add a blazer and you can wear this to even the most conservative office.
Original Price: $425
This looks like your classic shirtdress except with a little flair in the form of an oversized neck tie.
Original Price: $445
If you buy something through our links, New York may earn an affiliate commission.