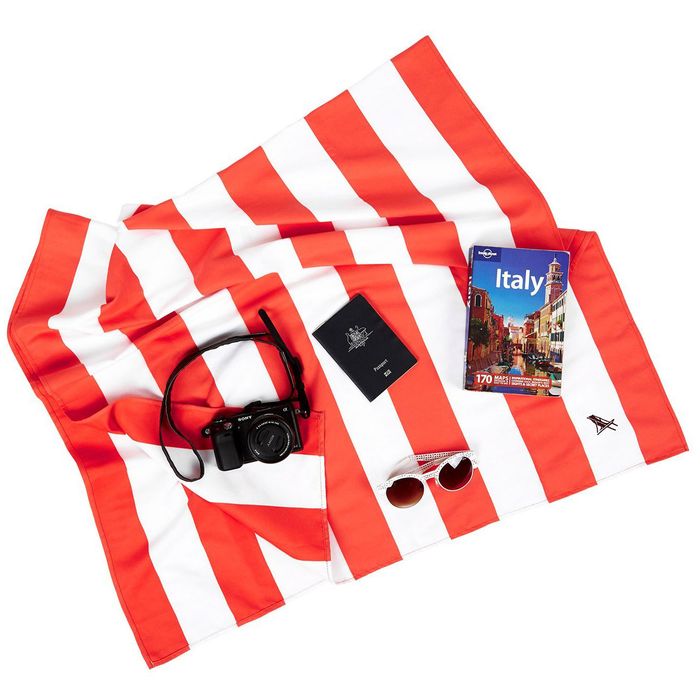 Cheap and Cheerful is a weekly column that highlights the chicest inexpensive finds. Because nothing's more satisfying than looking good while spending less.
Making the most of your days spent at the beach comes down to preparation. There are the obvious things to bring: a good bathing suit, strong sunscreen, and something interesting to read. Then comes all of the stuff you need for maximum comfort, like snacks, cold drinks, an umbrella, and something to sit on. Individually, everything on that list sounds easy enough to lug along, but spend a few minutes traipsing through the hot sand and you'll realize that the smartest beachgoers know where to cut corners. One easy hack? A lightweight, all-purpose beach towel that you can lay down like this affordable, very well-reviewed one from Amazon.
At $25, this microfiber towel by Dock & Bay has a ton of glowing reviews. Users love how it manages to be super absorbent yet dries quickly so you won't wind up with a soggy, ten-pound pile of fabric at the end of the day. The material is slick — with a flick of the wrist you can get rid of all of the accumulated sand. Despite its large size (it measures 78 inches by 35 inches), it folds up into a tiny pouch that's no larger than a paperback and weighs about one pound. There are five colors available but the red is especially fun and stylish. Because really, what's the point of a beach day if you don't make it extra pretty for the 'gram?
More Stylish Beach Blankets We Love
If you buy something through our links, New York may earn an affiliate commission.