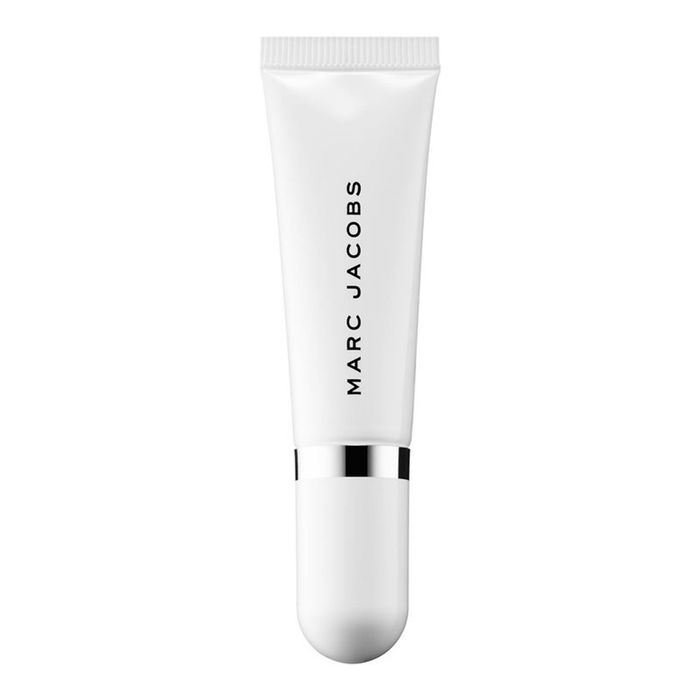 Marc Jacobs Coconut Eye Primer.
Photo: Courtesy of Marc Jacobs
It takes a certain level of skill to surprise a beauty editor on the subject of makeup or skin care. This is never more obvious than at an industry event to celebrate a product launch. "Did you know that you need to apply body lotion immediately after a shower to adequately moisturize your skin?" a brand rep asks as they kick off a presentation. (Yes, I did.) "Are you aware that sun exposure is the leading cause of visible aging?" (I'm more than aware.) "Did you know that people actually contour their boobs?" (Don't get me started.)
Leave it to Michael Ashton — Adele's makeup artist and winged-eyeliner wizard for a decade — to introduce me to something I'd yet to consider. We were discussing eye-shadow primers when he told me that he likes to dab a little underneath eyes to boost the staying power of under-eye concealers. "Dusting powder on top of concealer can cause creasing," he told me. "Prepping concealer with a primer first does not."
Subsequent Googling showed me that this technique isn't exactly under the radar (Smashbox and e.l.f both sell primers specifically for under-eyes), but since Ashton demonstrated it to me with Marc Jacobs's Coconut Eye Primer, I thought I should be consistent.
Marc Jacobs's primer is a bit like most eye-shadow primers — heavy on silicones — but an injection of coconut oil whisks the texture into a creamy state. The formula is tinted, like a shade of khaki, but as you rub the primer into skin the color fades to translucence. I haven't used an eye cream for some time now (I am very sorry, Linda Wells), but maybe this coconut gizmo is good enough to fulfill the role. After all, it makes my skin feel smooth! And soft! And from the first time I applied it under my concealer, my concealer hasn't creased (or melted) at all.
Using the primer for its intended purpose — on top of eyelids and underneath eye shadow — the story follows a similar narrative. Powder and cream eye shadows won't pill when brushed on top of the primer. My eyelids are oily and hooded, which means eye shadows have an hour-long shelf-life before they settle into my lid's crease. However, this primer hinders shadow-creasing for about six hours — not nothing given the construction of my face.
A dumb little thing that I also love is that the primer vaguely smells of coconut. That it performs the task of curtailing creasing is one thing. That it reminds me of a tasty snack is a luxury all on its own.
If you buy something through our links, New York may earn an affiliate commission.