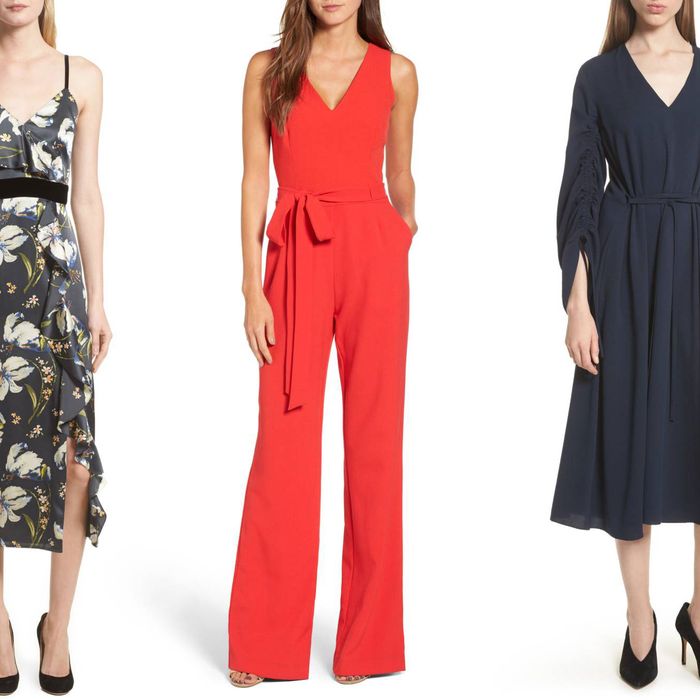 If it feels like there's a new sale every week to tempt your wallet, you're not imagining things. Yes, Nordstrom had their spring markdown just two months ago but they're back with their big anniversary blowout. And this one is especially good with deals on not just summer stuff but also clothes you can wear well into fall and even winter. Also on their discount list are some of our favorite bras, as well as their top-rated workout leggings. The sale will run until August 6th but quantities will be limited so if you see something you like, act fast. Scroll ahead to check out some of our top buys.
The Earrings of Summer 2017
Leggings With an Insanely Good Rating
Zella has a pair of leggings with thousands of positive reviews but unfortunately those aren't on sale. However these are their second-most-popular pair (with 366 five-star reviews) and they happen to be marked down.
Original Price: $54
A Luxurious-Looking Going-Out Top
This top comes in three colors: black, deep wine, and this mustard shade that happens to be our favorite because it looks especially expensive.
Original Price: $59
The Bra Thousands of Women Love
We called this one of our favorite bras because it's so pretty and supportive. Well, over 1,000 Nordstrom customers agree and now it's available on discount.
Original Price: $68
Our Favorite Sexy Bra for Big Boobs
Aude White raved about Chantelle bras being the best for her 32G frame, so here's your chance to get them on sale.
Original Price: $88
The Trendy Shoe of Summer 2017
Because Stan Smiths Are a Classic
Photo: afront
The fashion-favorite iconic sneaker gets an update in a very chic navy-and-white knit version that happens to be a favorite of our editor-in-chief Stella Bugbee.
A Short-Girl-Friendly Jumpsuit
Jumpsuits aren't always the most petite-friendly item but this bright-red number comes with a shorter inseam that's made for women five-four and under.
Original Price: $148
The Best Skinny Jeans for Curvy Girls
With plenty of stretch and sizing up to a 24, these jeans will hug the hips without gaping at the waist.
A Slinky Cool Black Dress
All you need to be a member of the #WangSquad is this dress, some smudged eyeliner. and a night best left as a secret among friends.
Original Price: $325
Sure, you're parked under the air conditioner right now, but before you know it you'll be traversing gray slush puddles. And then you'll be glad you bought these sleek waterproof boots.
Original Price: $495
A Fancy Dark Floral Dress
We love a dramatic dark floral dress, especially one with a kick in the form of a festive ruffle down the leg. You'll want to pull this one out whenever you have a fancy occasion.
Original Price: $525
Made from a navy crepe fabric that'll sit nicely on your body, this dress is the sort of thing you can throw on and wear all day with minimal fuss.
Original Price: $595
A Really Good Deal on a Moto Jacket
If you've been wanting a moto, here's your chance to get a leather one for a exceptional price. This cropped version skims the body but still has enough slouch to be cool.
Original Price: $705
If you buy something through our links, New York may earn an affiliate commission.