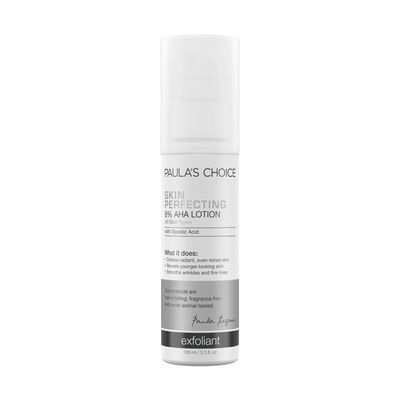 Paula's Choice Skin Perfecting AHA.
Photo: Paula's Choice Skincare
Four steps in a morning cleansing routine sounds dramatic, but I'm a skin-care nut. There's the slightly jiggly, non-foamy cleanser I use to wash my face (Glossier's Milky Jelly), which is followed by the water-like, pore-clearing liquid that every beauty editor in town can't stop praising (Paula's Choice's Skin Perfecting BHA). While the first two steps are meant to thwart pimples to a certain degree, the third step serves a much broader purpose. It's in this step where I give myself smooth, incredibly even skin.
When it comes to the elusive, frustrating concept of "perfect skin," most people focus on zits. Redness or hydration, maybe. No one really thinks about texture. But texture is what drives people to wonder whether you're wearing foundation or not (is your skin naturally that smooth?). And an even texture blurs the lines of rough skin and hyperpigmentation, while allowing any other item you splotch on your face — serums, moisturizers, makeup — to lie flat. An even texture makes everything look better.
I've steered away from scrubs ever since it became clear that the little granules do way more harm than good, and instead pursued the best chemical exfoliants. Though there are many to choose from, I've found that the best everyday option is Paula's Choice Skin Perfecting AHA Lotion. The lotion is made with an 8-percent formulation of glycolic acid. For the uninitiated, glycolic acid is a skin-friendly compound that sloughs away dead skin cells. The molecules of glycolic acid are small, compared to other acids, which results in a finer exfoliation. What's more, since the glycolic-acid molecule is so tiny, it penetrates skin more quickly and deeply: Think of it as a precision tool for smooth skin.
Paula's Choice's 8-percent formula strikes the ideal balance of efficacy and usability. Sure, you can buy higher concentrations of glycolic acid online (up to around 30 percent), but you run the risk of irritating your skin. Plus, there's the small matter of pH to consider. Like all acids, glycolic acid is pH-dependent (if the formula rises above a pH of four, it is rendered useless). A staggering number of glycolic formulas on the market aren't balanced to stay within the acid's ideal pH range. Paula's Choice's lotion, however, is buffered with sodium hydroxide to stabilize the formula's pH, which guarantees that the glycolic acid will always work.
Glycolic acid is traditionally considered an anti-aging ingredient because of its ability to smooth the appearance of fine lines. While that may be true, as a person who has yet to reach 30, I'm more interested in Skin Perfecting AHA Lotion's other effects. The occasional pimple on my face never leaves a scar; the humectant property of glycolic acid draws in moisture and makes my skin look constantly dewy; my face overall appears impossibly smooth. That's why the lotion has become the third step in my morning routine. Followed by sunscreen, of course.
If you buy something through our links, New York may earn an affiliate commission.