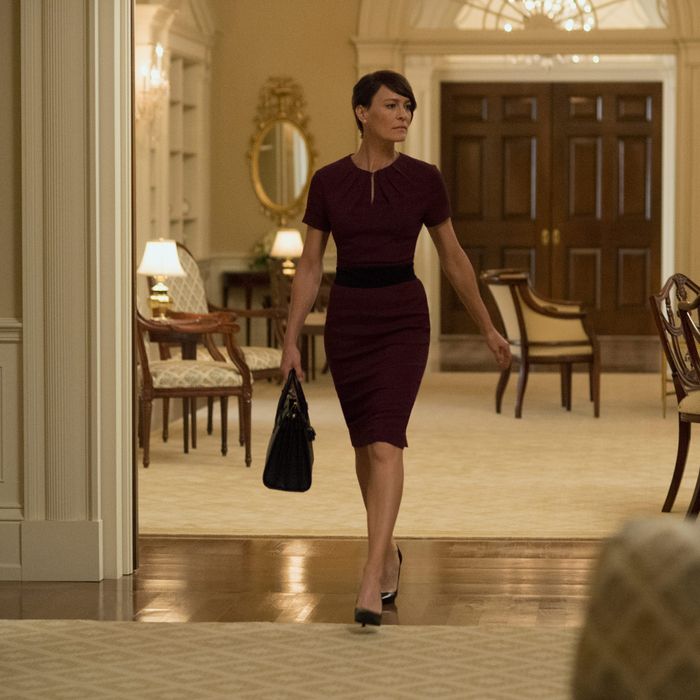 The look of a woman on a mission.
Photo: David Giesbrecht/Netflix
Figuring out what to wear to work shouldn't be a bore. To make your weekdays easier, welcome to Business Casual. Every Wednesday, we'll highlight the best office-appropriate clothes, whether it's for the job you have or the one you want.
Most days at work, all you want to do is get through all your tasks while wearing the most comfortable outfit possible. But then there are moments when you need to impress — an interview, a big presentation, an important meeting. For those times, take a tip from House of Cards' ruthless and powerful Claire Underwood and wear a sheath dress. They're her uniform for good reason: Nothing else is as commanding, especially with a pair of heels.
The secret to a sheath dress is choosing the right fit. It should skim the body, making you look so on top of things that even your dresses are perfect. Scroll ahead to shop our favorites worth investing in (though some are, thankfully, marked down). Trust us: All of these are worth it when you need to seal the deal.
With sizing from 0 petite to 22W, MM. LaFleur is one of those rare brands that make stylish, non-disposable work clothes for a range of women.
The Nordstrom anniversary sale is a great place to get some new fall clothes for less, including this classic gray sheath.
Original Price: $575
The Dress That'll Remind You About Your Posture
If you have a little more to spend, this Max Mara number is the dress equivalent of someone smacking your back every time you slouch — the clingy nature will force you to stand up straight.
The Creative Version of a Sheath
Just because you work somewhere more creative doesn't mean you can't benefit from the powerful image a sheath projects. Try this looser vibrant-green version with sharp heels.
The Dress Every Intern Should Own
When you're an assistant or intern, spending $200 on one item is hard to swallow unless it's the one dress that'll last through countless interviews and meetings. You can upgrade when you get a raise.
The Least Restrictive One
Nearly all of these styles are going to hug your legs, so if you're looking for a little more room to spread out, this is the one to buy.
The Classic That Doesn't Feel Boring
You can't go wrong spending on a black dress, but if you want one with a little extra something, this one features satin trim at the shoulders and waist.
If you want to go true Claire Underwood, this Armani Collezioni one is your best choice. The purple is a powerful yet non-distracting shade, and the fabric has just enough give to keep you comfortable.
Original Price: $995
If you buy something through our links, New York may earn an affiliate commission.