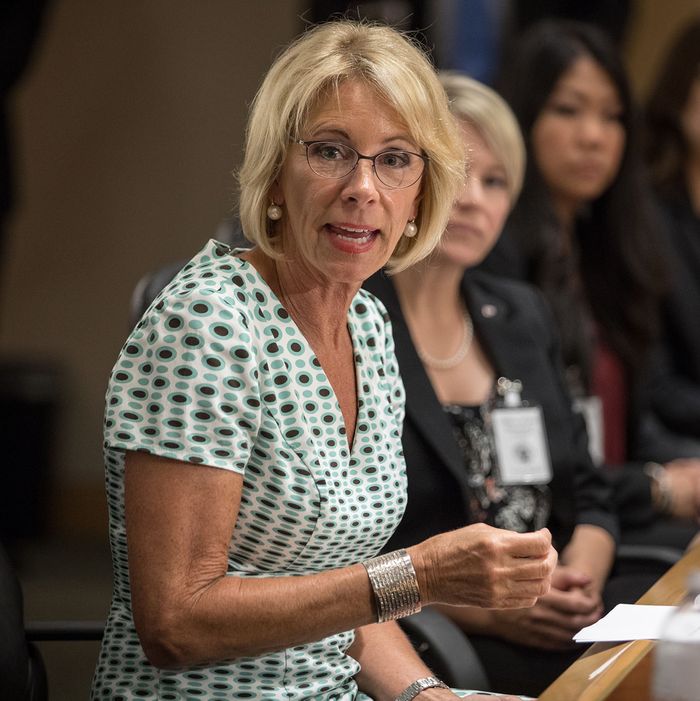 Secretary of Education Betsy DeVos during a press conference at the Department of Education.
Photo: The Washington Post/The Washington Post/Getty Images
Somewhere in Washington, the Department of Education's Office of Civil Rights has a stack of 344 claims of sexual violence on 242 college campuses. But no one really knows what will happen to these cases.
Many of them were brought to the Department of Education by way of the Obama administration's interpretation of Title IX, but despite the national attention paid to the subject, the Trump administration has been vague about how they will handle these incidents. It's unclear if they will continue to interpret Title IX as the Obama administration did.
Finally, this week, Secretary DeVos shed some light on the Trump administration's thinking on the topic of campus sexual assault.
DeVos emphasized the importance of weighing the rights of the victims and accused: "All their stories are important," she told reporters. "No student should be the victim of sexual assault. No student should feel unsafe. No student should feel like there isn't a way to seek justice, and no student should feel that the scales are tipped against him or her. We need to get this right."
These statements come during a week when Candice Jackson, the head of the Department of Education's Office for Civil Rights, told the New York Times that most sexual-assault incidents were cases of "we were both drunk." (She later apologized.) DeVos also caught flack for meeting with controversial men's rights groups. Meanwhile, the National Women's Law Center announced it was suing the Department of Education to obtain records on how the Trump administration has been handling sexual-assault cases so far.
DeVos claims she does not want to see these issues ignored: "We can't go back to the days when allegations were swept under the rug," DeVos said, "and I acknowledge there was a time when women were essentially dismissed. That is not acceptable."