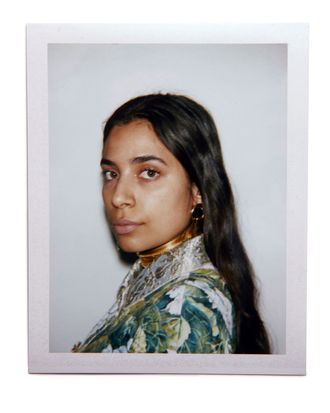 Bianca Valle wears Dolce & Gabbana.
Photo: Lucas Michael
"I grew up in a small town where it was either sports or art," recalls Bianca Valle. She chose the latter and got into painting and photography, both of which she now balances with her day job as community manager at Milk Studios. She recently held a show of cherry-blossom-themed paintings at Ludlow House, and came out with a zine, Hotpot, about her post-graduation travels in Asia. And she writes for the MilkXYZ editorial site, where she has been reviewing different face masks for her column Mask Appeal. Read on for her lightning-round answers to our interview questions.
If you could be any magazine, what would it be? It's a tie between NYLON and National Geographic. When I was growing up, I had two subscriptions and two subscriptions only. I definitely owe who I am to those two magazines.
If you could speak to animals, which animals would you want to talk to? Bunnies! Or my dog.
Sneakers or slippers? Sneakers.
What's something your social-media followers don't know about you? I'm so weird. I feel like I come off very put-together on my Instagram, but I'm not. I'm still trying to figure out what time to go to bed, and what face wash to use, and what pant cut looks good on my body.
What was the last website you looked at? My Tumblr.
If you could be outfitted by one designer for the rest of your life, who would it be? Gucci. They're so good right now.
What time is your alarm set for in the morning? It depends. On exercise days, 7, and on non-exercise days, 8.
What do you eat for breakfast? Two hard-boiled eggs, or fruit, or both.
If you had only three things you could eat for the rest of your life what would they be? Cashews, ice cream, and sweet potatoes.
Kiss: Frida Kahlo. Marry: My boyfriend. Kill: N/A
Person you wouldn't mind being trapped in an elevator with? My mother.
If you could tell Donald Trump one thing and make sure he would listen, what would it be? He shouldn't make decisions for women regarding our bodies and our futures.
If you were a color, what color would you be? Yellow.
Bianca wears Dolce & Gabbana cotton-and-silk jacquard coat, $5,395 at 717 Fifth Avenue, 212-897-9653, L.A. Cano necklace, $1,100 at Bergdorf Goodman, 754 Fifth Ave; 212-753-7300.