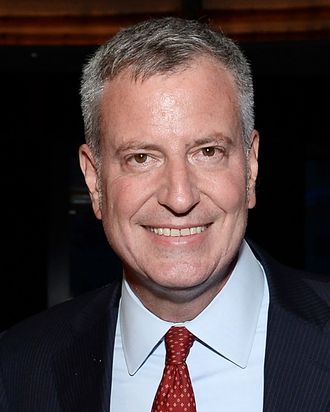 Bill de Blasio.
Photo: 2016 Getty Images
Getting married during an outdoor ceremony in Prospect Park on a sunny day sure sounds lovely (and sweaty). But in the case of New York mayor Bill de Blasio's 1994 nuptials to Chirlane McCray, guests allegedly spent an hour and a half wondering if the politician was even going to show up, as he was reportedly late to his own wedding.
As "Page Six" reports, de Blasio's former friend and current foe Sal Albanese — who is challenging him in the Democratic primary — recently told radio host (and Guardian Angels founder) Curtis Sliwa that he was among the dozens of guests stuck waiting for the long-sideburns aficionado that day.
"There was no shade. My wife was furious, and kept nudging me. She almost got me to leave," Albanese said, per "Page Six."
Albanese claims he also overheard two of de Blasio's aunts — who were sitting behind him and his wife, Lorraine, at the nuptials — complaining about the whole thing in Italian (as translated by Albanese). "Bill was a jerk as a kid, and he continues to be a jerk today," the aunts reportedly said.
Of course, the whole story came from a politician vying for de Blasio's position, so perhaps we should take it with a grain of salt. But if it's true, it certainly does not bode well for the MTA.