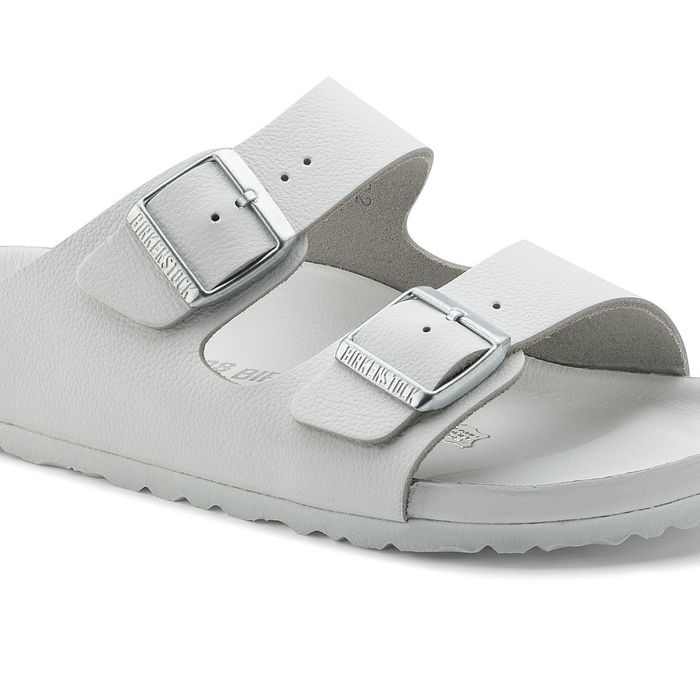 I've worn Birkenstocks every summer of my life since I was a kid. The corky orthopedic shoe is not just a staple of my wardrobe, but a part of my family lore. When, at 14, I got a tattoo that I wanted to hide from my mom, I placed it under the top strap of my taupe suede Arizonas. I recall thinking, "Obviously, I will always wear Birkenstocks, so this is a safe bet." Despite my questionable teen-logic, I wasn't wrong.
Sometimes Birkenstocks are in style, but they also never go away because there are legions of people like me who cannot quit them. And while I love them dearly, I only love certain styles and a very limited set of colors. First of all, unless you're vegan, make sure you only buy the all-leather uppers. The others rub and make your feet sweaty. Secondly, I only like the classic Arizona style, with the two, fat straps. I like the cork, but now that I've discovered the all-leather-lined footbeds, they have become my favorite. Naturally, they are more expensive, because my curse in life is liking expensive things.
Of all the showstopping shoes I've ever owned (including gold Prada heels, Céline sandals, customized Nikes) the pair that strangers ask me about the most are my Black Montereys. I began stalking these shoes back in 2013, at Fashion Week, when I saw them on a stylish woman seated next to me. They were impossible to find. I called American Birkenstock headquarters and they had never even heard of this style. Later, in 2014, when I saw Eva Chen Instagram them, I emailed her. She explained that she'd bought them in Europe (she is still wearing them). I asked a German friend to shop for me, but he was useless. Eventually I gave up, until early 2015 when Barneys suddenly came to the rescue and stocked them.
Because I know that fashion is fickle, I figured I should buy two pairs, in case my favorite summer go-to became unavailable. It was a crazy thing to do, shelling out $500 for two pairs of shoes that normally cost about $125. I'd never doubled down on a single item before. I felt a little queasy. I wore one pair and put the other "on ice." This season I had to admit that my first pair was looking a little tired and I'd make them "weekend-only Birks." It was time to bust out the backups.
Which meant that I needed to check to make sure there was a way to get more of my foot-drug. This time it seems the Birkenstock website had caught up with me, and started stocking them. But EUREKA! When I went to buy them just now, to my pleasant surprise, they now carry them in smooth, snowy, all-white! And while I'm not going to buy two pairs (yet), I have never whipped out my credit card faster. Worn with a crisp Lemaire dress from Uniqlo, or the perfect white tee, these will be the midsummer outfit pick-me-up I need. In my searching I also turned up a gorgeous green pair, which I might have to throw down for also.
My Original Obsession: Darth Vaderstocks
If you buy something through our links, New York may earn an affiliate commission.