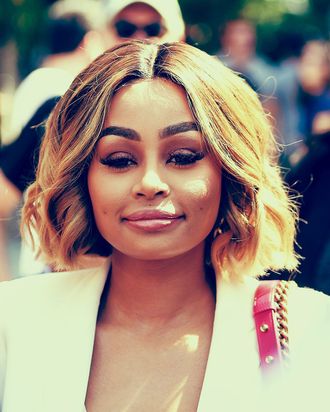 Blac Chyna.
Photo: 2017 Getty Images
On Monday, Blac Chyna was granted a temporary domestic violence restraining order against her ex-boyfriend Rob Kardashian after he posted, among other things, naked pictures on Instagram without her consent and a video of her kissing another man, the rapper Ferrari. Now, TMZ reports Chyna's attorney Lisa Bloom has threatened Ferrari (who also goes by Rarri True) with legal action if he posts or sells any naked pictures of Chyna.
Last Wednesday, Kardashian posted a series of explicit images and messages to accuse Chyna of allegedly cheating on him with multiple men, including Ferrari. Kardashian posted two nude images of Chyna, a video of her kissing Ferrari, and a picture of Ferrari in Chyna's bed, as well as a number of other disparaging notes and images. In response, Ferrari posted pictures of himself and Chyna in bed (which have since been deleted from his Instagram account), although her body was partially covered by a bed sheet in the images.
As TMZ reports, Chyna's attorney sent a letter on Friday addressed to Dejanel "Rarri" Carter, warning him that she has "become aware" that he may posses "unclothed or partially unclothed" images of Chyna and that he is trying to sell the images or may post them on social media. The letter reads, "Posting online or distributing photos of Ms. White's intimate body parts is a crime punishable by fines and jail time." Bloom's letter cites California's revenge porn law, and states that Bloom and her team "will not hesitate to seek all civil and criminal remedies" against him if he posts or distributes the images.