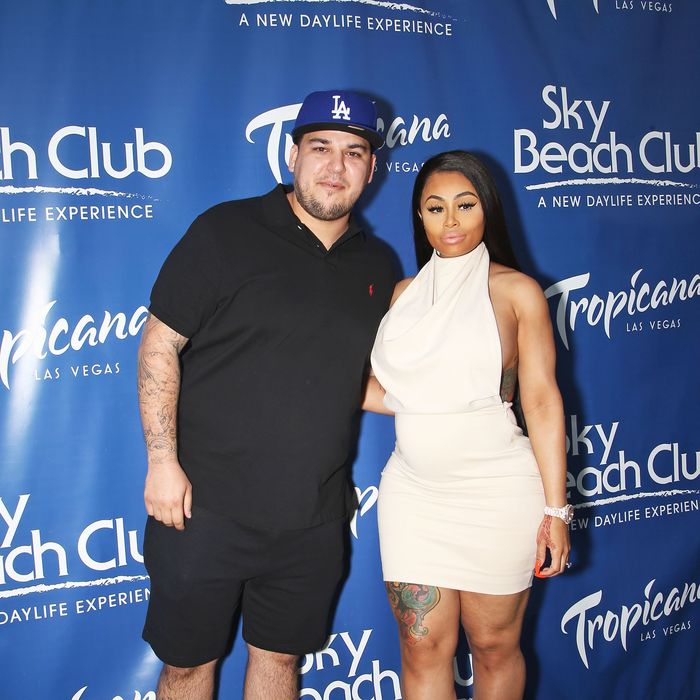 Rob Kardashian, Blac Chyna.
Photo: 2016 Gabe Ginsberg
An attorney representing Blac Chyna tweeted on Friday that Rob Kardashian was just served with a notice that Chyna will appear in court on Monday to seek a restraining order against him.
The lawyer, Lisa Bloom, represented three of the women who accused Bill O'Reilly of sexual harassment; she also represented Mischa Barton in her revenge-porn case. The news of the restraining order comes just one day after another attorney representing Chyna, Walter Mosley, told People that he was exploring "all legal remedies and protections available" to protect his client after Kardashian posted naked pictures of Chyna without her consent.
Bloom told TMZ that she took the case to help Chyna and also to send a message that the harassment and bullying women face online must be stopped. "Rob needs to back off," the attorney told TMZ. Bloom also called Rob a cyberbully, as he posted explicit images, sensitive medical information, and attacked her online.
The posts in question appeared on Kardashian's Instagram account early Wednesday, when he took to social media to accuse his ex-girlfriend of cheating on him. Kardashian posted a video of Chyna kissing another man, wrote explicit and crude messages about his ex, and posted at least two naked images he claimed were of Chyna, though they were quickly deleted.
Kardashian's Instagram account was shut down shortly thereafter, at which point he continued to rant about Chyna on Twitter. Legal experts told Time and the Daily News that Kardashian may have violated California's revenge-porn law by sharing the explicit photos of his ex-girlfriend, and that he could potentially receive jail time for the crime. The Kardashian family, meanwhile, is reportedly worried about how the battle between Rob and Chyna will affect their daughter, Dream.
This post has been updated throughout.