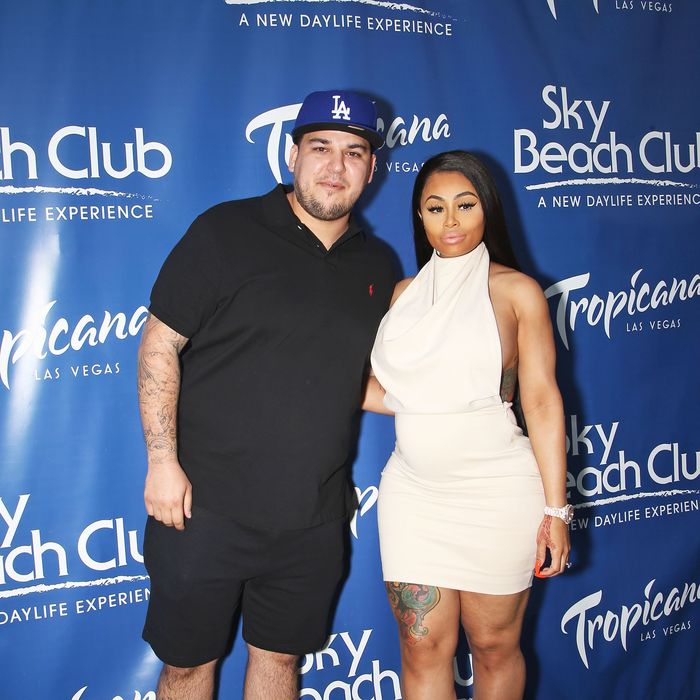 Rob Kardashian and Blac Chyna.
Photo: 2016 Gabe Ginsberg
On Monday, Blac Chyna was granted a temporary domestic-violence restraining order against Rob Kardashian after he posted nude pictures without her consent. TMZ previously reported that Chyna's request for the order detailed a violent attack in which Kardashian allegedly beat her to the degree that she could barely stand. Now, People has more details from Chyna's filing, including a claim that Kardashian has made multiple suicide threats over the past few months.
As People reports, Chyna submitted a written statement along with her request for a restraining order against Kardashian, in which Chyna claims he "threatened to kill himself multiple times in text messages since we broke up in December 2016, trying to manipulate me to respond to his outbursts." She went on to state, "I take his threats seriously because he showed me his gun at his house."
Chyna's attorney Lisa Bloom, who represented three of the women accusing Bill O'Reilly of harassment, and co-counsel Walter Mosley, also submitted photo evidence of text messages Chyna received from Kardashian, the father of her daughter, Dream. "In one text, Rob said, 'So I can at least die with knowing' and then followed-up with a question. In another text Rob said, 'That's why I can't do this and it's killing me to the point where I don't even have a purpose,'" the statement reads, per People.
The statement also reportedly includes a picture that Kardashian sent Chyna of himself holding a handful of pills, which Chyna states made it seem "as if he were going to take his life if I did not respond to his texts right at that moment." She explained that she has been asking Kardashian to go to therapy since June 2016 and that she doesn't believe he has seen a licensed therapist at this time. "I am in fear of this angry, volatile, vindictive man, who has physically attacked me and tried to humiliate me so publicly," the statement reads.