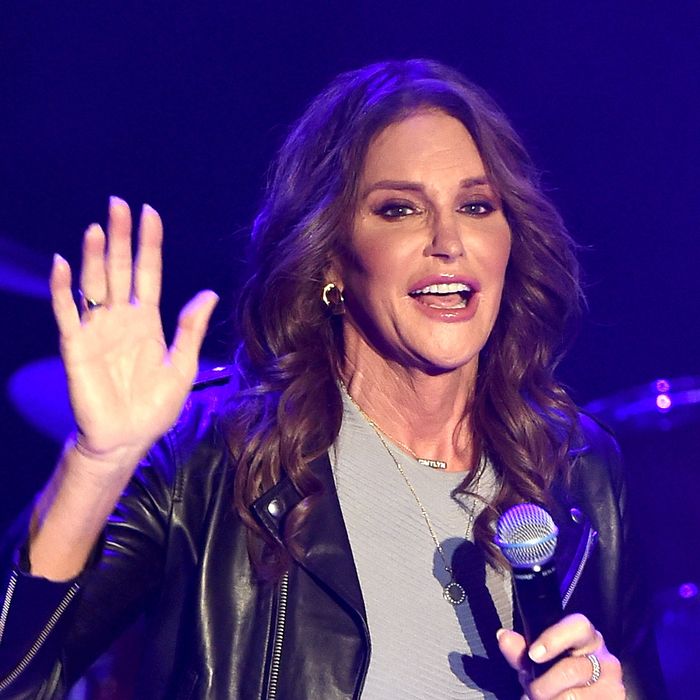 Photo: Kevin Winter/Getty Images for Nederlander
Yet another consequence of Donald Trump's presidency: Now we must take every celebrity's suggestion that they're running for political office a bit more seriously, even if the star in question is Kid Rock and it looks like it might be a stunt.
The latest celebrity ostensibly looking to throw their hat in the ring is Caitlyn Jenner, who said Sunday on John Catsimatidis's radio show that she may run for the U.S. Senate. "I have considered it. I like the political side of it," she said.
"I gotta find out where I can do a better job," she continued. "Can I do a better job from the outside, kind of working the perimeter of the political scene, being open to talk to anybody? Or are you better off from the inside, and we are in the process of determining that."
Jenner, the Olympic gold medalist, reality-TV star, and transgender activist, suggested she could change the face of the Republican Party.
"The perception of the Republican Party is that they are all about rich white guys trying to make money. I would hope in ​the next​ generation​ ​… that we can change the perception of the Republican ​P​arty and make it the party of equality​,"​ she said.​
Jenner supported Trump during the last election, but called his rollback of protections for transgender students a "disaster."
The next opportunity to run may be in 2018, but Senator Dianne Feinstein, California's 84-year-old Democratic incumbent, hasn't said whether she plans to retire.
As the L.A. Times notes, the California Republican Party has elected a number of celebrities over the years, including former president Ronald Reagan, former governor Arnold Schwarzenegger, and former congressman Sonny Bono.
Last fall, Kanye West announced he's running for president in 2020, so if Jenner does enter the race, prepare yourself for Caitlyn and Kanye Take D.C.