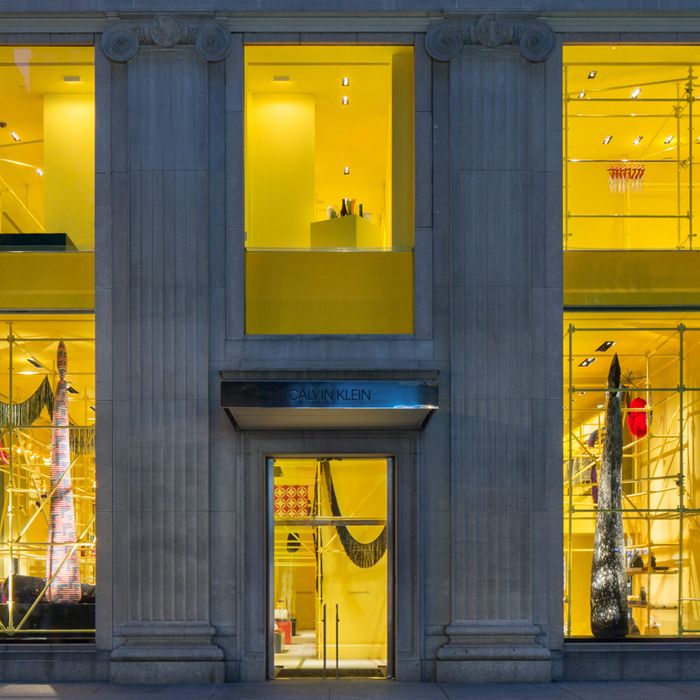 Calvin Klein flagship store.
Photo: Courtesy of Calvin Klein
The Calvin Klein flagship emits a fluorescent yellow glow on Madison Avenue. And not because of elaborate LED displays.
Calvin Klein has been located at 654 Madison since 1995, but this weekend, the company unveiled a major redesign, courtesy of a collaboration between chief creative officer Raf Simons and artist Sterling Ruby.
Part of the face-lift was covering every wall, corner, and ceiling of the store's three floors in Benjamin Moore's "Delightful Yellow" paint — hence the glow. Giant cloth "candles" by Ruby, several feet long, lie in the windows next to broken mannequins lifted from factories. Scaffolding — also painted "Delightful Yellow" — serve as clothing racks, breaking up the acclaimed fall collection with large yarn pom-poms and antique American quilts. It's a jungle gym of clothes, art, and Calvin Klein underwear, hung neatly in a row — a complete 180° from the store's previous hyperluxe, hyperminimal (almost clinical) aesthetic. But that's the point: The store is ushering in a new era of Calvin Klein.
Ruby, a longtime collaborator with Raf Simons, said in a press release, "I'm taking the Calvin Klein flagship store from minimal to maximal; my design should be seen as a marker to celebrate the future of the brand. I wanted the store to glow from within, representing a new day for Calvin Klein."