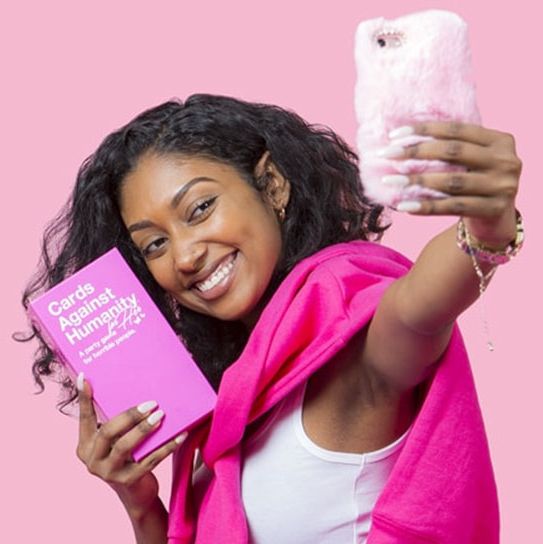 Cards Against Humanity for Her.
Photo: Courtesy of Cards Agains Humanity
Ladies, you know how it goes: You're drinking rosé at a party and want to play Cards Against Humanity, but the box is simply too dark and dreary for your taste. Luckily, in the same vein of unnecessary women's products like "pretty" pink disposable ear plugs and tampon flasks, Cards Against Humanity for Her has launched with the exact same game as the original version — but in a pink box and with a price tag that's $5 more expensive.
Don't worry — Cards Against Humanity is in on the joke, with a parody website that reads, "Everyone hates it when the men retire to discuss the economy and various issues of the day. What are us ladies supposed to do?"
"We crunched the numbers, and to our surprise, we found that women buy more than 50 percent of games," Cards Against Humanity community director Jenn Bane said in a press release, per Adweek. "We decided that hey, it's 2017, it's time for women to have a spot at the table, and nevertheless, she persisted. That's why we made Cards Against Humanity for Her. It's trendy, stylish, and easy to understand. And it's pink."
The $30 female version of the game can be purchased on the website, with a $5 period pack (featuring 30 extra cards "written while we were all on our periods" that are "lightly scented to help prevent odors") available as well. Profits from the cards will be donated to EMILY's List, a group that helps elect female pro-choice Democratic candidates to office. Finally, a way to use the pink tax for good.