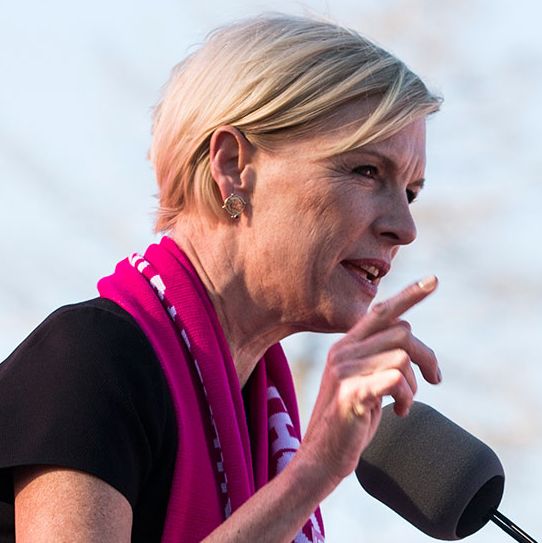 Cecile Richards.
Photo: 2017 Getty Images
At a private roundtable meeting of women in senior leadership positions at the Planned Parenthood office in Manhattan on Wednesday, the nonprofit's president Cecile Richards acknowledged that while many people might consider her controversial, she always knew that would come with her job fighting for reproductive rights.
"If you're not pissing someone off, you're probably not doing your job," Richards told the group of 15 women, brought there on behalf of the 92nd Street Y's Women inPower fellowship program. "Women have got to get a lot more comfortable with people being irritated at us."
The meeting and Q&A session, led by the Y's chief innovation officer Asha Curran, was a candid conversation about career, ambition, and success. Richards spoke openly about her own trajectory, and reflected on the professional challenges particular to women. For example, Richards said, self-imposed barriers — when women question their own abilities — impinge on our chances of success.
"Do not ever think there will be a moment in your life where all the stars will align. 'I have the right degree, I have the right relationships, I have the right clothes.' That is what holds women back so much," she said. Richards said that her mother, who spent the beginning of her life as a housewife and parent of four kids, did not wait to find the right time to launch her political career. "If she had waited until she was qualified for the things she went on to do, she would never have run for governor of Texas."
Richards said that her own self-doubt almost deterred her from going for her Planned Parenthood position. "I almost didn't interview for this job. I've never run anything this big. I had a list of all the things that I didn't know how to do," she told the roundtable. Planned Parenthood sees over 2.5 million patients every year at more than 600 health centers across the country, and is currently embroiled in a battle to keep its doors open at all. "But I did it anyway. I went ahead and tried it anyway. If you wait until everything lines up, it's over."
Before the discussion, Curran said that her reason for launching the Women inPower fellowship — where 27 fellows have meetings, coaching, trainings, and mentorship from other accomplished women in different fields — was to embolden women in senior roles to seek out executive-level jobs. At the meeting on Wednesday, women from a wide range of sectors were represented — Elizabeth Gwinn, the director of communications for the Studio Museum in Harlem, Alison Go, a product lead for Facebook, Amy Spitalnick, the press secretary for the office of the New York attorney general, and 12 others.
Spitalnick said that mentorship plays an important role in supporting women when confronting professional challenges. "It's easy for people to be outraged about blatant misogyny, but when it comes to actually tackling the institutional issues — including the more subtle misogyny — that hold women back, there's no real political will." Spitalnick said that's why mentorship and collaboration with other high-achieving women was essential. "WiP has provided a space not just to explore that challenge, but also the resources to tackle it in our day-to-day professional lives."
Richards agreed. "I left jobs when I didn't have a mentor. I quit more jobs than you could shake a stick at. I always felt like I needed a place where I could learn something from someone else," she said. "Holding out for things that bring you joy and where you feel like your job isn't something that you're dreading going to, that's a rare thing. I worked for years with low-wage workers, women who had no opportunities, no choices. I think that privilege we have is something we need to recognize. But I think seeking mentorship is something worth changing jobs over."
Speaking to the Cut following the meeting's end, Richards emphasized Spitalnick's point — that finding other women at your workplace who can support and bolster you critically contributes to getting those same women into leadership roles. "We can't wait until someone taps us on the head and says, 'Oh my god, I think you're ready for your next move.' Look for other women in the workforce and outside your own workplace. We can all teach each other the ways in which we have overcome our own feelings of anxiety."
So what is Richards's advice for women once they have this support system in place? How do women find the fight they feel is worth fighting?
"My mom used to say, you can be super successful, you can have tons of money, you can have a lot of stuff," she said, "but there is nothing greater than having a job where someone turns to you and says, 'Thank you for making my life better.'"