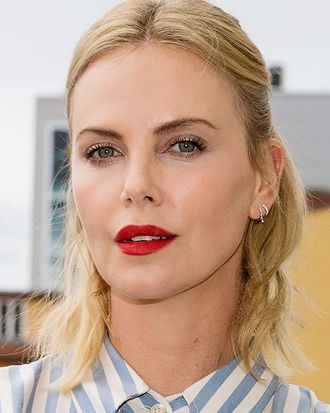 Charlize Theron.
Photo: 2017 Getty Images
Three years ago, a dramatic event so big, so important changed the course of petty history: Tia Mowry said Charlize Theron was mean to her at SoulCycle. But now, Theron finally spoke out about the incident during a Sunday appearance on Watch What Happens Live, explaining that she is actually "really nice" at SoulCycle.
Mowry told In Touch in 2014 that she approached the Oscar winner at a SoulCycle class and it did not go well. "She wasn't very nice to me. I said, 'Hi,' and she actually rolled her eyes and said, 'Oh, my God,'" Mowry said. "I wasn't over-the-top. I know how to approach another celebrity. Charlize was just mean. I'm just being honest." Shortly after, Dish Nation published a report claiming the gorgeous actress was "so pissed" that Mowry went to the tabloids about her, she tried to get SoulCycle to ban the famous twin.
But on Sunday night, Andy Cohen asked Theron about the incident on WWHL, to which the actress replied, "What a bitch," before laughing. "No, I heard this story," she continued. "Did she really say it? Was it just written? Was it taken out of [context]?" When Cohen noted that it was published by In Touch, Theron said, "Oh, well you can't go by that, right?"
The actress went on to explain, "I'm really nice at SoulCycle actually, because once my endorphins kick in I'm almost too friendly. I'm always touching people like, 'Heeeeey.'" Theron added, "I'm not an eye-roller, but I would be like 'Fuck off.'"
We can't wait for Mowry's reply three years from now.