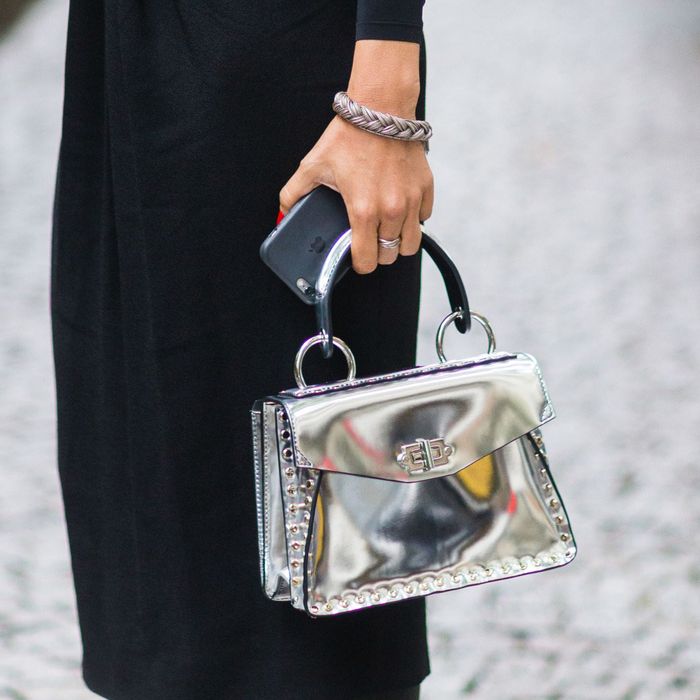 Cheap and Cheerful is a weekly column that highlights the chicest inexpensive finds. Because nothing's more satisfying than looking good while spending less.
When it comes to street-style trends, not all of them are the easiest to wear in your everyday life. But there was one item that was very popular with Haute Couture showgoers that felt especially fun and fresh for the summer. The piece? A tiny bag, shrunken down to fit just your essentials like a wallet, phone, and keys. It gave everything a youthful kick — you weren't taking life too seriously by lugging around the contents of your desk like you would during any given work day. This is the bag you'd take on a weekend or night out. In cheery colors such as silver, yellow, or red, it's another way to make any outfit feel more playful during these warm months. And the best part is that you can buy into this look for $100 or less. Scroll down and check out our favorites.
Should you prefer genuine leather, here's a bright metallic option for $60 that was made for a night out.
The ideal lady bag when you want to wear head-to-toe white.
With a color like yellow, it's hard to imagine wanting to buy a giant handbag in the shade, but a tiny crossbody feels like a nice punctuation to an outfit.
When you really want the original Céline bag, except your bank account just doesn't allow for it, this will satisfy that craving.
For the Reformation fan who wants to wear the brand head-to-toe, here's a fun little leather pouch to complete the look.
The vibrant red color and the shape of this bag makes it a nice standout among a sea of crossbody bags.
Yes, it's that shade of pink and it's not going away, so here's a cute bag to add to your closet.
Wear this studded bucket bag with a black slip dress and extra eyeliner for your own spin on the typical Alexander Wang downtown girl.
If you buy something through our links, New York may earn an affiliate commission.