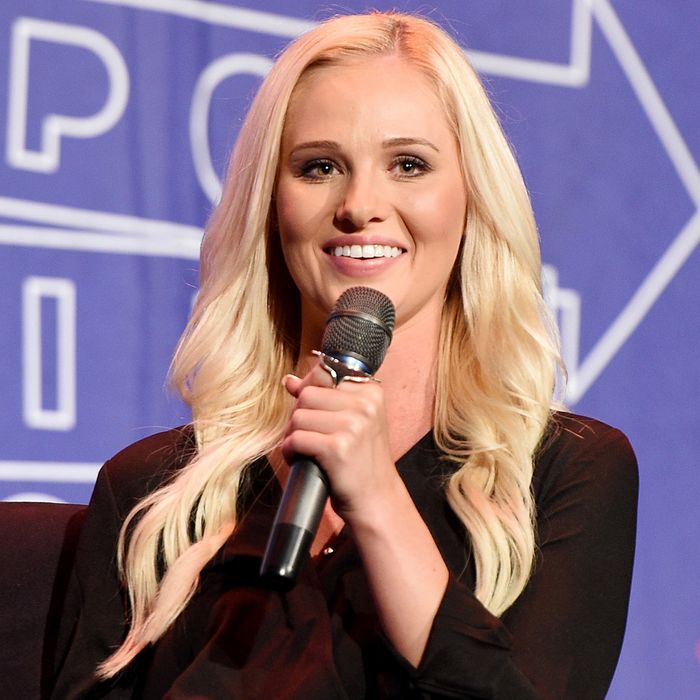 Conservative pundit Tomi Lahren speaking with Chelsea Handler at Politicon.
Photo: Joshua Blanchard/Getty Images for Politicon
Twenty-four-year-old conservative pundit Tomi Lahren railed against the expansion of the "entitlement state" this weekend in an onstage debate with Chelsea Handler at the third-annual Politicon conference in Pasadena, California.
Lahren, an Obamacare critic, who has suggested health insurance is a privilege not a right, admitted to Handler that she benefits from a key feature of Obamacare — the ability for young people to stay on their parents' plans until they are 26.
"Luckily, I am 24, so I am still on my parents' plan," Lahren told Handler in a TMZ video of the event. "Now for me, if that were taken away from me, I'm okay, I don't need it. If it is to the betterment of a free-market system and health care is going to be better for it, I'm okay with that."
Lahren, insisted that she was not critical of all of Obamacare — just the parts she doesn't really use — like the expansion of Medicaid. "If you can get your health care free and you can be subsidized, why would you work? There are other entitlements that help them there as well. That is the problem to me with the overgrown entitlement state."
Lahren, of course, was recently fired from Glenn Beck's the Blaze for admitting she's pro-choice and has settled a wrongful-termination suit with the company. But last night, she stuck firmly to President Trump's side of the Republican party line. She attacked the media, blamed the Republican congressional leadership for failing to repeal and replace, and defended what Handler called President Trump's "lies," as forgivable "exaggerations."
Did Tomi Lahren just apply for a job in the Trump White House?