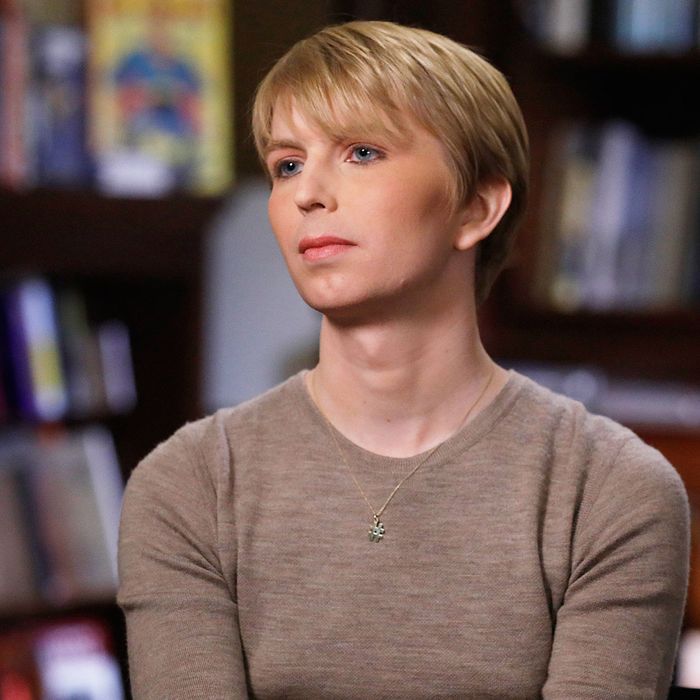 Chelsea Manning wrote a scathing op-ed on Trump's policy for the New York
Times
.
Photo: ABC/Getty Images
On Wednesday, President Trump unexpectedly announced via his Twitter account that transgender troops would be banned from serving in the U.S. military "in any capacity." It's since become clear that the president got a little bit ahead of himself — the chairman of the Joint Chiefs of Staff said on Thursday that there was no immediate plan to change the policy on transgender soldiers.
But for thousands of current and former military service members, Trump's tweets recalled a time before the Obama-era policy that allowed them to serve openly. And in a New York Times op-ed Thursday, Chelsea Manning both harshly condemned the announcement and tied the rationale behind it to a growing list of excuses the military has used to keep trans people out.
"Medicine was the old excuse," she wrote. "The old military regulations were laced with medical terms to justify discrimination. They psychopathologized us trans people as having 'manifestations' of 'paraphilias' and 'psychosexual conditions' … that would 'render an individual administratively unfit' to serve."
Now, she wrote, the excuse is money. "It was supposed to be expensive to provide trans people with adequate health care," she said. "The reality is that the costs are negligible. Military spending wastes billions of dollars on projects that are canceled or don't work, every day."
She pointed out that both excuses have been disproven. In reality, "this is about bias and prejudice," she wrote. "This was a sign of progress that threatens the social order, and the president is reacting against that progress." The result, she said, is that "we are hurtling backward." But she ended with words of encouragement:
We will not back down. Our progress will continue. Our organizing and activism will grow stronger.




We are neither disruptive nor expensive. We are human beings, and we will not be erased or ignored.
After the ban was announced, Manning tweeted her opposition to it.
And on Thursday, she posted a picture of herself in front of the White House with her signature hashtag, #WeGotThis.