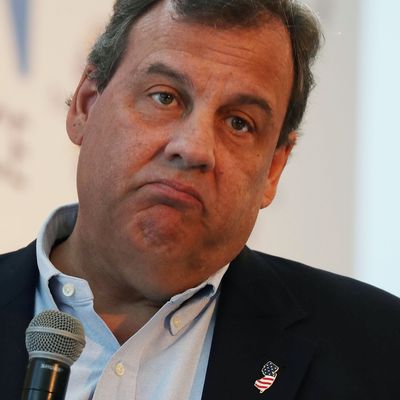 Chris Christie.
Photo: 2017 Getty Images
If you've already settled on your song of the summer for 2017, it's time to reconsider. It's not "Despacito," it's not even "I'm the One" — it's a clip of New Jersey governor Chris Christie fighting with a radio caller who called him a "fat ass."
Christie spent his Monday filling in for host Mike Francesa on WFAN, a sports talk-radio station based out of New York City. This came shortly after he was discovered using a beach that had been closed to the public — because of a government shutdown he ordered — thereby triggering #BeachGate. New Jersey residents were rightfully pissed off, so it's not surprising that it came up on air.
"Mike From Montclair," a regular caller into Francesa's show, wasted no time in letting him know exactly how he felt.
"Governor, next time you want to sit on a beach that's closed to the entire world except you," he started, "you put your fat ass in a car and go to one that's open to all your constituents."
Christie lobbed back with, "I love getting calls from communists in Montclair," and called Mike a "bum." And upon being told, "You have bad optics," the governor replied, "Mike, I'd love to come look at your optics every day buddy."
You can listen to the clip, interruptions included, below:
Can't wait for the remix.