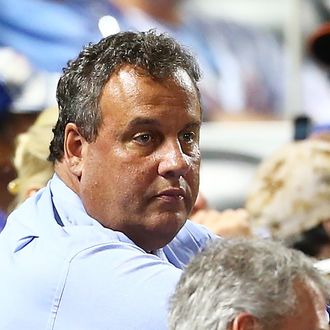 Tramps like us, baby we were born to … be hated by most of our electorate.
Photo: 2017 Getty Images
New Jersey governor Chris Christie is no stranger to humiliation. During the presidential campaign, it was reported that he was tasked with picking up Trump's McDonald's orders. A few months later, Trump was forcing him to eat meatloaf at the White House. And remember when his idol and also mine, Bruce Springsteen, went on late-night TV to explicitly mock him over Bridgegate? (Springsteen personally insulting me is one of my greatest fears in life, so I do feel for Christie on that one.)
With only about half a year left in his last gubernatorial term, the situation seems to only be getting more unhinged and embarrassing in Christieland. And so, let's take a look back at Chris Christie's terrible, horrible, no good, very bad summer.
The Beachgate Fiasco
Christie's summer spiral arguably started with Beachgate. To refresh, on Saturday, July 1 — prime beach weekend — he ordered a government shutdown, one which led to the closure of all state parks and beaches. To add insult to injury, Christie was then photographed enjoying a day at a completely empty beach with his family on Sunday, July 2.
The only upside? Seeing Christie get mercilessly roasted on Twitter after he was caught.
The Radio Caller Fight
The next week, Christie auditioned for a WFAN sports-talk-radio gig, filling in for Mike Francesa while he was on vacation. Unfortunately for him, the people of New Jersey had neither forgotten about nor forgiven him for Beachgate.
"Mike from Montclair," a longtime caller, phoned in to give him a piece of his mind, immediately calling Christie a "fat ass." Christie fired back, calling him a "communist" and a "bum." The verdict on this fight? [Kisses fingertips like an Italian chef.]
The Cell-Phone-Germ Story
Christie's abrupt banishment from his brief time in the Trump circle has been a source of speculation for a while. In July, a new report said that he tried to get Trump to use his cell phone and Trump, a notorious germaphobe, was completely disgusted.
The Christie team denied this, and, besides, there was already November's report that he was fired for hogging camera time. Oh and there's always, you know, that time he put Jared Kushner's dad in prison. Either way, how many times is Christie going to have to relive his swift drop from power?
The Time He Was Booed at a Mets Game
Here's a nice summertime activity: going to a ball game, maybe eating a hot dog or three, and getting lucky enough to catch a foul ball. Unless, of course, you're Chris Christie. After he managed to snag one during a Mets-Cardinals game earlier in the month, Citi Field responded by booing him in unison.
The Nacho Incident
This brings us to Sunday night, when he confronted a Cubs fan who was heckling him at a Cubs-Brewers game in Milwaukee. Christie got right in his face and said, "You wanna act like a big shot?" all with a massive plate of nachos in tow. Point Christie?
It's yet to be seen what sorts of humiliations August has in store for Christie. Then again, it doesn't seem to bother him all that much: Back in June, when confronted with his 15 percent approval rating, his response was, "Who cares?" A truly inspirational summer mantra.