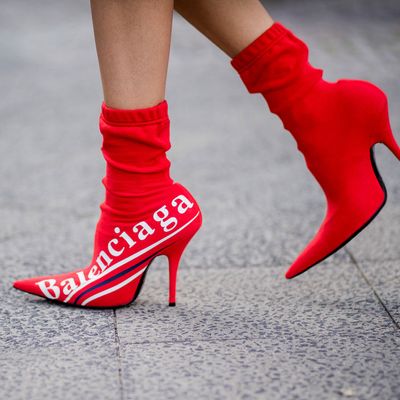 Balenciaga has a takeover at Colette through August.
Photo: 2017 Christian Vierig/Getty Images
July 4 was a typical day at Colette, the beloved Paris boutique that just announced it will be closing later this year. Japanese nail artist Mei Kawajiri, manicurist for magazines like CR Fashion Book and celebs like Hannah Bronfman, was busy making customers' nails into exact replicas of her wild designs for Balenciaga's spring 2017 show. (I signed up to get the red talons embellished with huge Swarovski crystals — for free, mind you.)
Katy Perry was strolling around without an entourage in tow. She appeared to be checking out the scene. Marisa Berenson stopped in to sign copies of her new book. Mac Miller, music producer and boyfriend to Ariana Grande, browsed Balenciaga T-shirts that were being designed and printed on the spot. Iconic architect Peter Marino, elusive couture collector Daphne Guinness, actress Rossy de Palma — the space was full of big names, some stopping to chat with co-founder Sarah Andelman.
The celebrities were there for the opening of an all-Balenciaga-everything pop-up shop, but the buzziness of the atmosphere was nothing new, and it's exactly that atmosphere that put the store on the map as an icon of Parisian culture. Nowhere else in the world does one retail outlet offer the same level of events, people-watching, collaborations, and cool products.
So the news that Colette would shutter after 20 years shocked the fashion world this morning. The store's press release was vague, citing that Colette Roussaux, co-founder and mother to Sarah Andelman, "has reached the time when she would like to take her time; and Colette cannot exist without Colette." But it did promise consistency: "Until our last day, nothing will change. Colette will continue to renew itself each week with exclusive collaborations and offerings, also available on our website colette.fr."
A rep from Colette this morning said Andelman doesn't want to comment any further on the store closing. The press release also noted that a Saint Laurent boutique is set to replace the Colette space.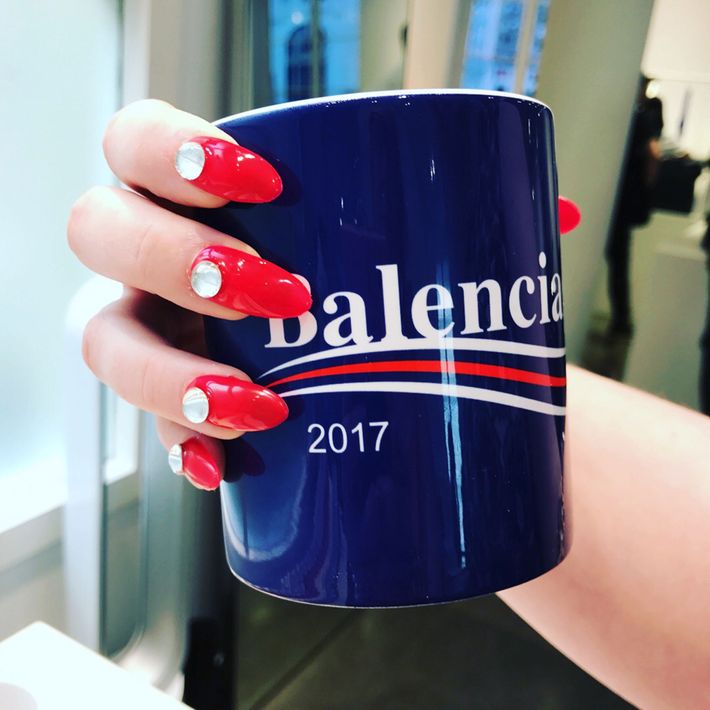 The news comes not long after the store's Balenciaga takeover, which will run through mid-August. Balenciaga logo mugs, travel pillows, lighters, baseball caps, and ready-to-wear pieces replaced the section where normally, Colette sold clothing, jewelry, and shoes from a slew of international brands. The floor below is still stocked with its assortment of magazines, home items, T-shirts, and sneakers.
"Demna manages to speak to a large audience," Andelman said a few days before announcing Colette would be closing. "His collection is immediately recognizable and can touch very different people. The logo-mania is very powerful, but in a good way, for example, the political logo. The cap becomes the accessory to have."
Indeed, even Andelman herself is a fan of the buzzy label. "I absolutely love the sweatshirt I bought with the long collar to attach as a knot," she says of her favorite Balenciaga piece. "It's such a basic hoodie but suddenly, with this little bow, it becomes so unique, feminine, and cute."
Andelman admitted, "We're very excited for our following projects with Sacai, Thom Browne, Chanel, Saint Laurent. They'll all develop incredible projects for Colette, each one very different from each other." There's no word on exactly what these collaborations will be, but if they're anything like Colette x Balenciaga, you can expect long lines and items that sell out instantly. The concept store will also host a collaboration with PR guru Lucien Pagès later this year, in which his clients such as Olympia Le-Tan and Jacquemus create limited-edition, exclusive bags and other items.
That's all a lot to look forward to, but come December, even Colette's e-commerce shop will close. Ironically, this immediately makes Colette even more of a hot destination than it's ever been before.