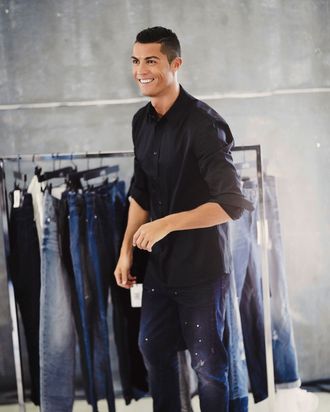 Fashion designer Cristiano Ronaldo.
Photo: Bryce Thompson
Are you the kind of man who can't imagine wearing anything but your favorite baby-blue jeans? But are you also the kind of man who spends every available hour in the gym, pumping those juicy thighs to perfection? Have you long dreamed of jeans with stretch that will help you maintain swole-ness, ease, and style in your life? Then you're just the type of man international soccer star/model/inspiration for the best sculpture in the history of the modern world Cristiano Ronaldo wants to outfit in his new denim fashion line, CR7.
Using an exclusive "stretch material," as Ronaldo told People in April, CR7 Denim, which comes in four different styles and five shorts styles, is perfect for any man with an unequaled love for both jeans and squats. Don't believe that can be a thing? Watch this film of Ronaldo riding an exercise bike shirtless while wearing a pair of jeans of his own design.
Checks out! It's a thing.
Before Ronaldo's big denim debut, the Cut spoke with the soccer star over email about becoming a fashion designer, his 6-year-old son's fashion sense, and bacalhau.
Do you see the fashion industry as the next step after retiring from soccer?
I haven't decided that [yet] but the world of fashion has always been an interest of mine. I've always loved the cut of a well-made suit, and gravitate as much to a leather brogue as to a Nike trainer.
Do you think your son would wear CR7 denim?
I don't know that I'd say my son is into fashion just yet, he's only 6 after all, but he certainly has great natural style. Maybe one day we'll launch a junior's line and then he can be the judge.
Will CR7 ever venture into a formal eveningwear line?
I certainly like the sound of it. I guess only time will tell.
Is being a fashion designer in any way similar to being a soccer player?
Certainly the work ethic behind both is similar. You can't really stumble into either overnight, they both take a lot of practice to develop a true expertise. To me fashion is more about creativity, there's more room for experimentation. Soccer is all about technique and execution.
What has been the highlight of your career so far?
I have a lot of great memories but being able to captain Portugal to the country's first major soccer trophy last year was special.
What has been the biggest challenge you've faced?
All careers face challenges. My philosophy is by approaching each and every day in the pursuit of improving, no challenge becomes too great. This helped inspire CR7 Denim — designed for people on the move constantly in progress and in need of clothing that lives up to and supports this way of living.
If you had to give advice to someone who was interested in playing sports, but who was not athletic, what would you tell them?
Just keep working at it and don't be intimidated.  Even professional athletes still have to practice, to improve and stay at the top of their game. If you're not athletic, but interested in playing a sport, I would say play and make sure you're having fun.
What's your favorite food?
My favorite food is bacalhau. We say there are more than a thousand ways to cook it and I like bacalhau done in many different ways.