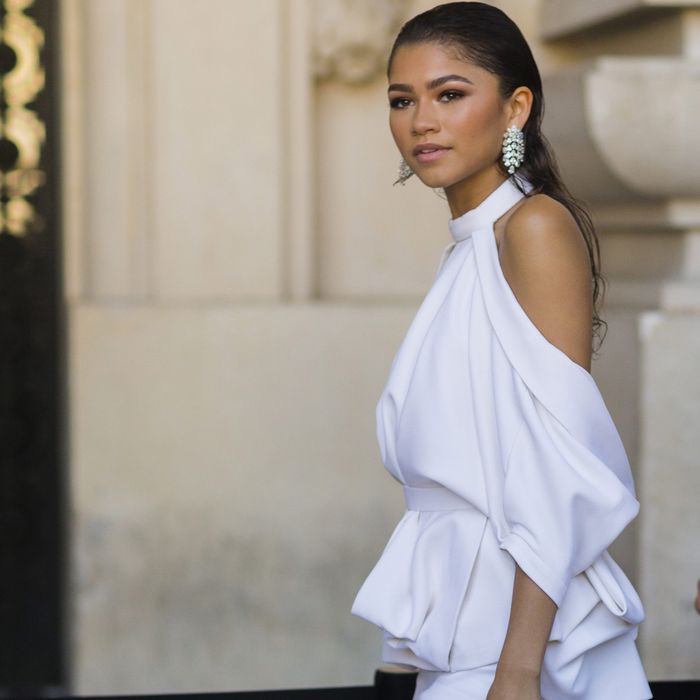 Cheap and Cheerful is a weekly column that highlights the chicest inexpensive finds. Because nothing's more satisfying than looking good while spending less.
Lately, the phrase I've been repeating to all my friends: "No, I'm not auditioning for one of Diddy's famed white parties, I'm just completely obsessed with the color." And really nothing feels more appropriate for the hottest months of the year than a breezy white dress. It's the type of thing you imagine throwing on to enjoy a glass of summer water while enjoying the sunset or for a sweaty night out with your girlfriends. Plus, it's so easy — all you need to add is a bold lipstick, colorful sandals and you're good to go. The best part? You can get a stylish one for less than $150, which makes it much less painful when you inevitably spill something on it. Scroll below for our favorites and don't forget to keep a bleach pen handy.
The Under $50 I've Worn a Million Times
As a fervent H&M shopper I took notice of this breezy, chiffon white dress immediately. The construction looks markedly more expensive than its $40 price tag, and since buying it I've worn it with almost every shoe in my closet — Keds, Adidas, or Matt Bernson slides, they all work.
The One You Can Throw Over Your Head
With no fussy buttons or precarious back-zipper situations, it's one of those dresses you literally throw on without having to think. The poplin material is also more resistant to wrinkles than your typical cotton dress so it'll be a winner for last-minute vacation packing.
The Dress for Drinks With the Girls
There are so many cute details on this dress, like delicate ties at the arms and a ruffled skirt, so you might as well play them up with swingy earrings.
While the calf-length hemline and elbow sleeves feel a bit Little House on the Prairie, the sheer lace panels at the hems and waist add a revealing twist to make it more current and cool.
Play up the saccharine-sweet vibe with a pair of ballet flats, or add an athletic edge with sleek gold jewelry and a pair of Gazelles.
While the sweetheart neckline and spaghetti straps are a sweet touch, the clean lines and buttons give it a minimalist touch.
The Dress for Showing a Little Back
When the humidity strikes, a little back cleavage goes a long way for airing out sweat.
If you want to carry your white-dress obsession to the office, here's a dress that works for more lax work environments.
If you're the type who prefers waist-emphasizing styles, this one features paneling to really nip things in.
If you buy something through our links, New York may earn an affiliate commission.