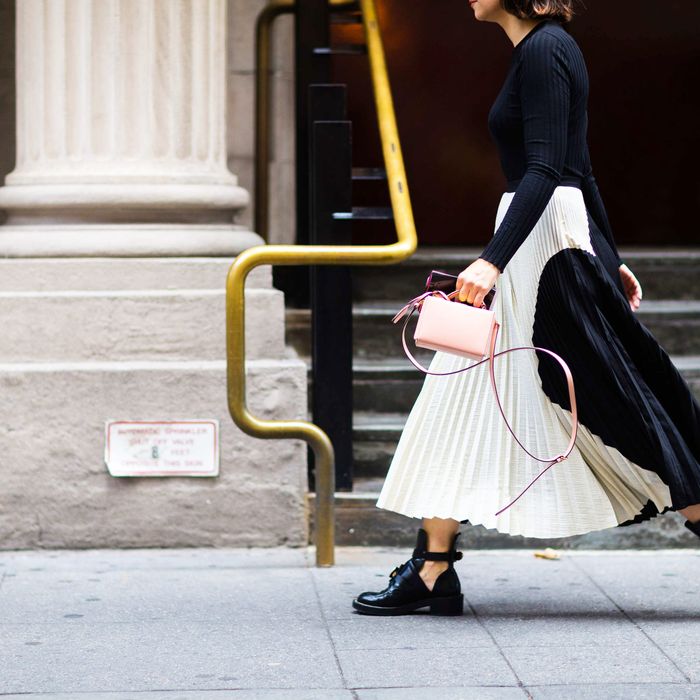 Figuring out what to wear to work shouldn't be a bore. To make your weekdays easier, welcome to Business Casual. Every Wednesday, we'll highlight the best office-appropriate clothes, whether it's for the job you have or the one you want.
There's a reason that when people get dressed for a big meeting or interview, they often go for a pencil skirt. It's sharp, it's sleek, and it says you run a tight ship, both in your closet and at the office. But honestly, how comfortable is a pencil skirt for everyday wear? Sure, there's a slit and some stretch, but the shape is limiting. Your legs are squashed together, an especially unpleasant experience in the summer. By the end of the day, you're dying to tear that thing off.
Which is why, if you want to look pulled-together yet still feel comfortable, you should opt for one of these looser skirts. They let you sit and spread out without feeling like you're trapped in a sausage casing. Really, letting your legs breathe is a tiny luxury you can enjoy during even the worst week at the office. Scroll ahead to shop our favorites.
The Expensive-Looking Pick
Uniqlo is home to plenty of cheap cashmere, but their summer offerings aren't too shabby either. This cotton poplin skirt has enough stiffness that it won't wrinkle but comes with an elastic waist for extra comfort.
You're not imagining things — there are a lot of ruffled wrap skirts out there right now. This one also happens to be that shade of pink as well. And yet, when two trends meet, they somehow work.
Work at a place where you have to show personality with your clothes? Wear this with a bright blouse. Work somewhere where you need to be more reserved? Tuck in a white button-up.
The One You Can Wear Year-Round
A pretty camel is just the right shade to bridge your warm- and cold-weather wardrobes.
For when it's really hot outside and you want something that'll allow the breeze to pass through.
Khaite is a fashion-editor favorite and this skirt happens to be 70 percent off — a fantastic end-of-summer bargain. Plus, there are plenty of sizes left!
Original Price: $760
The Skirt Version of ASMR
This skirt is going to be divisive — the color and cut is meant for a person who prefers soothing neutrals and has a job with a fairly liberal, creative dress code.
Here's another version of the ruffled wrap-skirt trend, this time in an icy mint shade.
The Universally Appealing Preppy One
If you buy something through our links, New York may earn an affiliate commission.