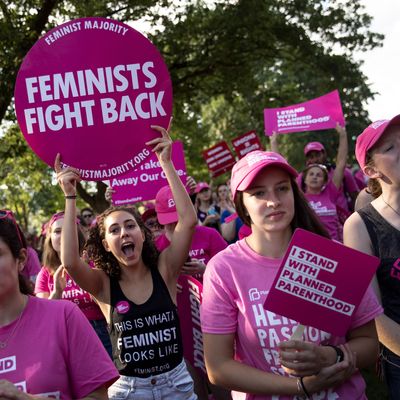 Democrats seem to be waffling on abortion rights.
Photo: Drew Angerer/2017 Getty Images
In the aftermath of Donald Trump's election, Democrats are hard at work on their "better deal," which integrates popular planks of Bernie Sanders's economic platform. But when it comes to reproductive rights, they're waffling. And on Monday, Representative Ben Ray Luján — the chairman of the Democratic Congressional Campaign Committee — became the latest to suggest that 2018 Democratic candidates don't have to be pro-choice.
"There is not a litmus test for Democratic candidates," Luján told the Hill. "As we look at candidates across the country, you need to make sure you have candidates that fit the district, that can win in these districts across America."
He added that, for Democrats to pick up an additional 24 seats in order to win a majority in the House of Representatives, "We'll need a broad coalition … we have to be a big family."
Luján is the third high-profile Democrat to suggest in recent weeks that a pro-abortion stance might not be the best thing for the party. In April, Bernie Sanders and Democratic National Committee head Tom Perez gave a "unity tour" in which they more or less said reproductive rights aren't an integral part of progressive politics. "If you demand fealty on every single issue," Perez said, "then it's a challenge." (He later said in a statement that the Democratic Party's support for abortion "not negotiable.") And a few weeks later, Democratic Minority Leader Nancy Pelosi suggested that Democrats' pro-choice stance was hurting the party.
"This is not a rubber-stamp party," she said. "In our caucus, one thing unifies us: our values about working families. Some people are more or less enthusiastic about this issue or that issue or that issue. They'll go along with the program, but their enthusiasm is about America's working families."
Pro-choice organizations that ally themselves with Democrats were quick to push back. A spokesperson with EMILY's List, which recruits and trains pro-choice Democratic women to run for office, reminded Luján that reproductive and economic justice are intrinsically linked. "At the core of the Democratic Party is our commitment to a better economic future for the working people of our country," she said. "Reproductive choice is fundamental to our platform. One of the most important financial decisions a woman makes is when and how to start a family." And Mitchell Stille, a spokesperson for NARAL Pro-Choice America, argued that the move wouldn't win Democrats significant additional support: "Anyone who actually thinks that Donald Trump and the GOP candidates won in 2016 because of their opposition to abortion rights is sorely mistaken."
This kind of "return to the center" thinking has become a pattern for Democrats after an election loss — Howard Dean's 50-state strategy in 2006 relied on running candidates in red states who "didn't look like national Democrats," said former representative Jason Altmire, who was one of them. But this time, with women leading the backlash against Trump, it's unclear if that strategy will work — or is even viable.