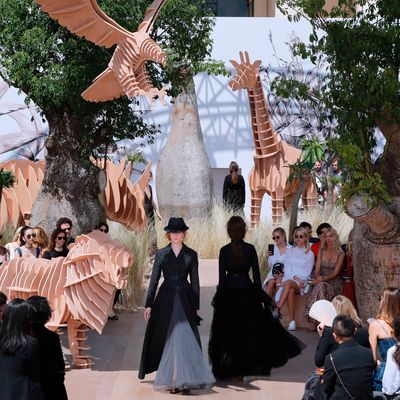 Photo: FRANCOIS GUILLOT/AFP/Getty Images
The program for the Dior haute couture show began with a quote from Karl Gutzkow: "I have purchased a map of Paris printed on a pocket handkerchief." Well, after this couture show, you can now buy various maps printed on Dior couture capes, dresses, and jackets.
Dior's 70th anniversary collection was staged at Les Invalides in Paris, surrounded by wooden animals by Pietro Ruffo. The theme was, undeniably, globetrotting, inspired by female explorers and designer Maria Grazia Chiuri's own journey from Rome to Paris. Each branch of the star-shaped runway represented a different continent using the animals (giraffe and rhinoceros in Africa, tiger and monkey in Asia) and a celestial map hung overhead. Guests were given a fan, which Céline Dion used in the front row.
Chiuri's clothing designs nodded toward explorers and aviators. Menswear fabrics were folded into the collection, which also featured plenty of intricate gold embroidery, pink tulle, and Dior's signature gray. As in Dior's cruise show, hats played a key role; Chiuri riffed on the masculine fedora to continue the Freya Stark look. There was one colorful chevron dress, a vibrant red coat, and splashes of brightly colored tulle, although most of the sheer gowns were in dusty colors. The final gown, however, featured pom-pom details, hinting at the "fairyland" mentioned in the program.