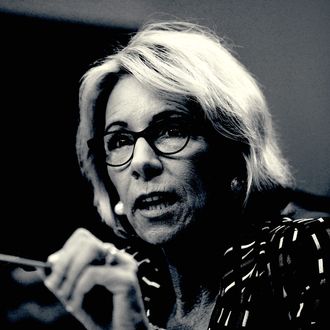 Betsy DeVos.
Photo: 2017 Getty Images
Amid concerns that the Trump administration might not work to enforce Title IX guidelines as strictly as the Obama administration did, the Department of Education has reportedly reached out to various groups to discuss the law. Along with sexual-assault survivors' advocates, those groups include, according to Politico, Families Advocating for Campus Equality, SAVE: Stop Abusive and Violent Environments, and the National Coalition for Men. In doing so, Secretary of Education Betsy DeVos may very well end up sitting down with various men's-rights activists, as Fusion points out.
Both Families Advocating for Campus Equality and SAVE seek to defend those they say have been unjustly accused of sexual assault; the latter was deemed a misogynist site by the Southern Poverty Law Center in 2012. The National Coalition for Men, meanwhile, describes themselves as an organization "committed to the removal of harmful gender based stereotypes especially as they impact boys, men, their families and the women who love them." Back in 2016, they made headlines for using civil-rights legislation to sue for gender discrimination when they were left out of nightclubs' ladies nights or women-only networking events.
Great lineup, all around.