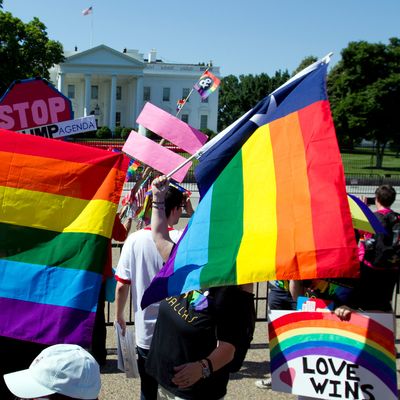 Pro-LGBTQ protesters outside the White House.
Photo: Getty Images
In 2010, Donald Zarda, a skydiving instructor, filed a lawsuit claiming that his employer fired him because he was gay. His suit argued that the company's actions violated Title VII of the Civil Rights Act of 1964, which bans discrimination based on sex. The case is ongoing, and on Wednesday, the Department of Justice filed a brief saying Title VII doesn't protect gay workers because it doesn't apply to discrimination based on sexual orientation.
According to BuzzFeed News, the brief filed with the U.S. Court of Appeals for the Second Circuit said that, "The sole question here is whether, as a matter of law, Title VII reaches sexual orientation discrimination." DOJ lawyers concluded that "it does not, as has been settled for decades. Any efforts to amend Title VII's scope should be directed to Congress rather than the courts."
The brief added that Title VII only applies if members of different sexes are treated unequally: "The essential element of sex discrimination under Title VII is that employees of one sex must be treated worse than similarly situated employees of the other sex, and sexual orientation discrimination simply does not have that effect … Gay men and women are treated the same, and straight men and women are treated the same."
According to BuzzFeed, the DOJ's intervention is unusual because the department isn't involved in the case at all, and it "doesn't typically weigh in on private employment lawsuits."
Interestingly, another federal agency — the Equal Opportunity Employment Commission — filed a brief in support of Zarda. The Obama administration had previously argued that Title VII included gender identity, but it stopped short of applying it to discrimination based on sexual orientation.
If the court rules in Zarda's favor, it could effectively ban discrimination against LGBTQ workers across the country — something Democrats in congress have tried (and failed) to do with legislation, according to Bloomberg. In a statement, James Esseks – director of the American Civil Liberties Union's LGBT & HIV Project — said the DOJ brief constituted a "gratuitous and extraordinary attack on LGBT people's civil rights."
The filing comes the same day that President Trump sent out a series of tweets announcing that transgender soldiers would not be allowed to serve in the military "in any capacity."