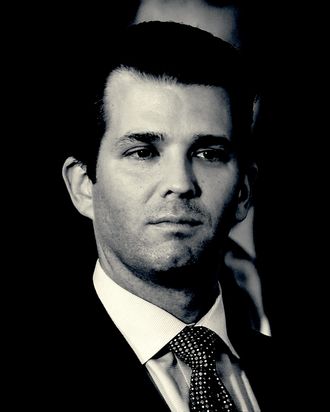 Donald Trump Jr.
Photo: 2017 Getty Images
A great American chanteuse once sang, "She's so lucky, she's a star, but she cry, cry, cries in her lonely heart, thinking … if there's nothing missing in my life, then why do these tears come at night?" Such, it seems, is the predicament of Donald Trump Jr., who reportedly finds that happiness eludes him despite the fact that he's a multimillionaire son of the president.
Shortly after he was exposed for a shady meeting with a Russian lawyer back in 2016, People spoke to sources who say that the eldest Trump son, who's been awarded an immense amount of privilege since birth, is not faring well emotionally.
"Don can't do any deals, because he'll be overly scrutinized. He just goes to work every day and is miserable," one revealed. Another said, "You can't bite the hand that feeds you, but he [Don Jr.] can't wait for these four years to be over."
Back in February, it was reported that Melania Trump was also feeling "miserable" in her First Lady role.
But, hey, at least one person in the Trump family sure seems to be enjoying themselves.