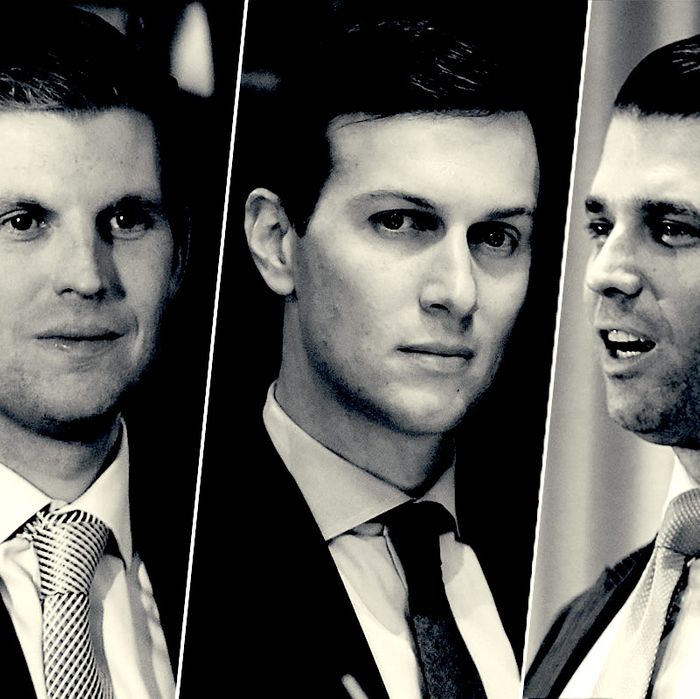 Donald Trump's favorite boys.
Photo: Getty Images
On Wednesday, we learned that Donald Trump Jr. — the multimillionaire son of the president — has reportedly been "miserable" since his dad took office due to the scrutiny he's received for things like sitting badly and having shady meetings with Russian lawyers. But it turns out there's something else that's bothering Don Jr. as well: He and his brother Eric are reportedly jealous of all the attention that Jared Kushner gets.
As People reports, the eldest Trump sons are apparently upset that Kushner gets to work with their dad in D.C., while they're stuck being rich in New York. "All the attention to Jared is a bit of a sore point and they feel left out of the fun of D.C," a source told People. "They miss being at the center of attention."
The Kush's star position in the family is apparently especially hard for Don Jr., a 39-year-old adult male. The "family source" told People, "Don worked on the campaign and Jared gets the big Forbes cover and they make him out to be a big genius, and Don is like, 'No, I worked on the campaign too!'"
But lest you assume the Trump boys are being open about their feelings, the source told People, "It's not like outward hostility [toward their brother-in-law]." We do wonder if they've at least commiserated with Tiffany, though.