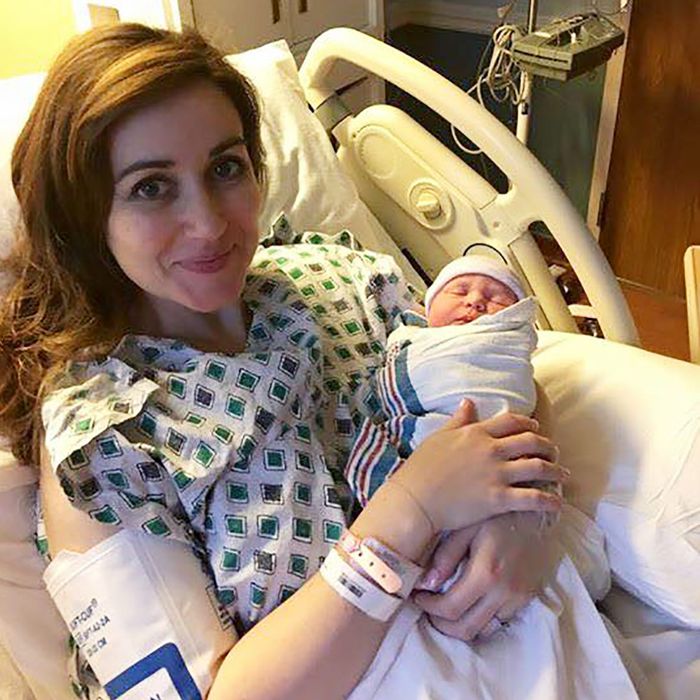 Dr. Amanda Hess and her new baby.
Photo: Courtesy of Facebook/DrHalaSabry
A doctor was at a Kentucky hospital last week preparing to give birth to her baby, when she heard a woman screaming in pain from a nearby room. And so, while still wearing her hospital gown, the obstetrician/gynecologist helped deliver the woman's child — even though she was about to be in labor herself, NBC News reports.
Dr. Amanda Hess was having her delivery induced at Frankfort Regional Medical Center in Kentucky last Sunday, when she heard patient Leah Halliday Johnson wailing as it came time for her to give birth, according to NBC News. Hess wasn't Halliday Johnson's primary OB/GYN during her pregnancy, but she had examined her "three or four times" previously.
Halliday Johnson's baby was in distress, but the on-call physician was out of the hospital. Hearing the commotion, Hess did the only thing she could think of: She threw on some boots over her flip-flops, put another hospital gown on to cover her open back, and helped the patient. "I said you know, I'm not on call, I'm here in a gown, but I think we ought to have the baby," Hess told NBC News.
But Hess didn't let on that she was moments away from having her own labor induced. "She was definitely in doctor mode," Halliday Johnson told NBC News. "My husband noticed something was going on because she had on a hospital gown, but I didn't notice that because I was on the delivery table. I was in my own world there."
Halliday Johnson gave birth to a baby girl — and the doctor also gave birth to a baby girl later that night. Hess thinks her actions were merely part of the job. "Delivering other peoples' babies is something I do every day," Hess told NBC News. "And I'm more comfortable with delivering someone else's baby than my own, for sure."