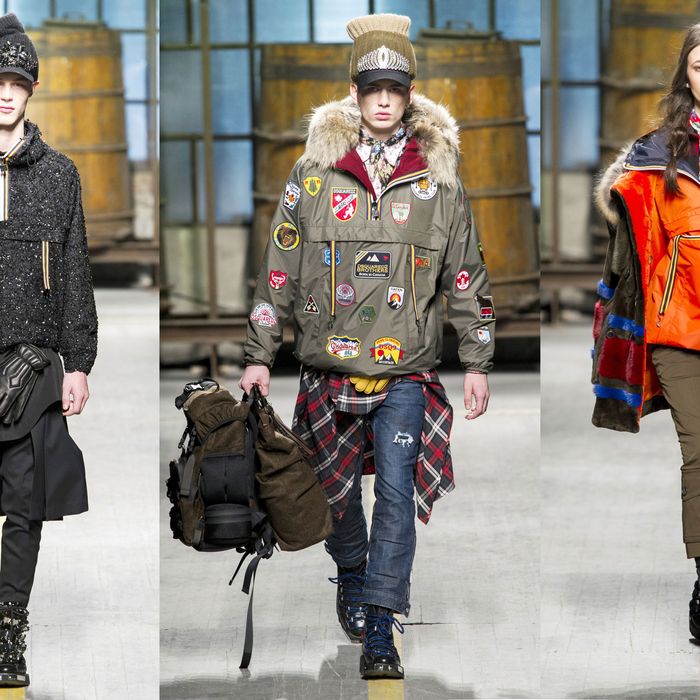 There's really no way to come out looking pristine after a brutal storm — rain drips into every possible crevice of clothing while the wind whips your hair and face into a mess. You could go the way of an elegant raincoat, but if you're looking for something with streetwear edge, Dsquared2 has the answer for you. Partnering with French brand K-Way, makers of the "original packable jacket", Dsqaured2 just put the flashy anoraks seen at their fall 2017 co-ed show online for preorder.
The unisex capsule collection consists of four distinct anorak styles, ranging from the pragmatic to the avant-garde with prices to match. For the purist, there's both short and long solid-navy versions that look like the classic jacket you're familiar with. The latter also happens to be conveniently reversible. If you have the funds to drop more, you can get an army-green patched jacket that starts at $1,900. And should you want to take it to the extreme, there's a $23,000 black sequin floral style. It's certainly a loftier price point for a cold-weather essential, but since campwear worn as casual sportswear is all the rage, we can definitely imagine a celebrity fashion nerd like A$AP Rocky taking this on. Welcome to peak gorpcore.
If you buy something through our links, New York may earn an affiliate commission.