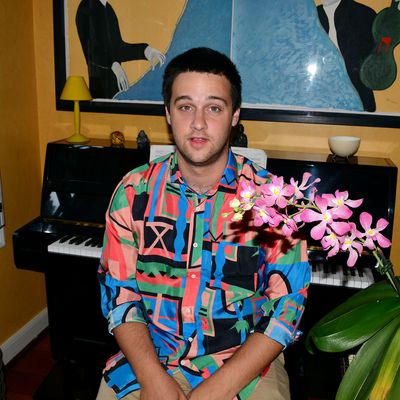 Dusen Dusen Ddugoff collaboration.
Photo: Ellen Van Dusen
Dusen Dusen — the brightly colored, vaguely Scandinavian, Memphis-inspired clothing-and-home line adored by famous and nonfamous millennials alike — has finally made its first foray into menswear. Men who do not fear a multicolored squiggle or a polka-dot pattern, rejoice. You can stop coveting your sister's Dusen Dusen shirts now.
The collaboration is with DDUGOFF, a menswear line started by Daniel DuGoff, who by went to high school with Ellen Van Dusen, the former brand's designer. The line will feature five shirts in Dusen Dusen's signature prints on DDUGOFF's standard button-ups. For the capsule look book, Van Dusen photographed her brother and dad wearing the shirts in her childhood home — on treadmills, cutting wood, and gardening. A true family affair.
The collab is available at Dusen Dusen now.