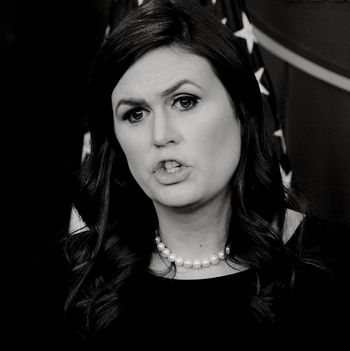 Sarah Huckabee Sanders read a letter to president Trump from a 9-year-old boy out loud.
Photo: Getty Images
On Wednesday, press secretary Sarah Huckabee Sanders held a rare on-camera press briefing, which she kicked off by reading a letter sent to the president by a 9-year-old boy. "You are my favorite president," the letter read. "I like you so much I had a birthday about you."
Afterward, reporters asked Sanders to release the letter, and she obliged:
Conspiracy theories erupted almost immediately. Some pointed out that Pickle is Mike Pence's cat's name, while others recalled a New York Post story that describes Donald Jr.'s childhood doll, Captain Pickle. There was a lot of handwriting analysis, and even a birth-records search. But on Thursday night, the Washington Post revealed that Dylan is, in fact, a real person.
Dylan Harbin lives with his mom, SuAnn Harbin, in Stockton, California. According to the Post, when he was a baby, his older brother called him "Dyl-pickle," which was eventually shortened to just "pickle."
SuAnn said Dylan's love for Trump came out of the blue, after he learned about the candidate in his third-grade class. "He liked that Trump had the same name as his friend Donald," the Post wrote. "He liked the candidate's suits. He Googled 'Donald Trump' and learned about all the hotels he owned around the world, and that seemed exciting to him."
Dylan has reportedly watched the recording of Sanders reading his letter out loud "at least five or six times." He cried the first time, his mom said, "because it was so emotional." Unlike Trump spokespeople John Miller or John Barron, both of whom turned out to be Trump himself, Dylan is "not fake," his mom said. "He's real."