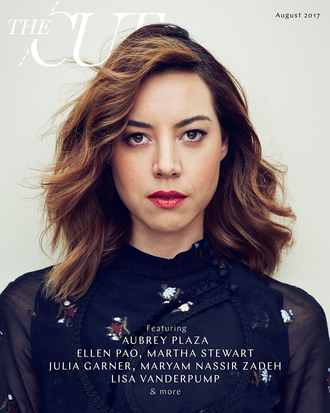 If August in New York City were a perfume, the only brand capable of capturing it would be Comme des Garçons. The top notes would be hot nuts and asphalt; the base notes, sex and seawater. If it were a cocktail, it would be made with Gosling's rum, freon, and Pop Rocks, sipped from wafer cones. If it were an outfit, the shirt would be just two strips of black electrical tape worn in an X-pattern over each nipple.
A languid perversity is possible during August in the city. People come in and out of town, but their minds, like their therapists, are nowhere to be found. It's the month to say, "Fuck it, I'm wearing jorts," even if you're not into jorts or profanity. It's a month for buying a lottery ticket, or having sex with a man-bun — even though you know better. It's the month when you drink stolen tequila with strangers in Far Rockaway; you see Valerian on mushrooms; you end up on Governors Island, pedaling one of those Flintstones wagons, with no idea how you got there.
If August had a mascot, it would be our cover woman Aubrey Plaza: She wears Miu Miu beautifully, chases squirrels for fun, and can throw you off-balance with an eye-roll. As our writer Allison Davis discovered, Plaza, who stars in this month's black comedy Ingrid Goes West, proves that the most interesting people never give you what you're looking for.
Other top moments on the Cut this month: Reality-TV legend Lisa Vanderpump teaches a master class on subtle manipulation. British art educator and hermetical nun Sister Wendy talks about how art "heals the human soul" in tumultuous times. Thousands of die-hard Oprah fans congregate on a cruise, waiting for a glimpse of the goddess herself. Ellen Pao writes about the heartbreak of her trial. The singular Martha Stewart tells us how she gets it all done. Plus, we've got encounters with Julia Garner, Patti Stanger, Rachel Zoe, Sarah Sutherland, and more.
Next week, we'll have the Fall Fashion issue of New York Magazine, full of ridiculously gorgeous, cold-weather clothes. If you're serious about fashion, you will start plotting ways to get them immediately. And later, toward the end of the month, the Cut has a total redesign coming. That's right, an ALL-NEW CUT! No spoilers, but we're very excited to share it with you, and when we do, I'll have loads more to say about it.
'Til then, try not to let the season slip away like an Instagram story with the sound off. Go to the park. Pretend the outside world is a sauna when you venture forth from your frigid office. Sink into the heat, and remember that before long, winter will be here, and you'll crave the damp, idle rapture of summer nights.
Love, Stella
————————————————
On Aubrey Plaza: Erdem top, price upon request at Erdem.
Photograph by Robert Maxwell. Styling by Rebecca Ramsey. Hair by Rod Ortega for SoloArtists/René Furterer; makeup by Mai Quynh using Stilla at Starworks Artists. Photographed at the Chateau Marmont. Styling assistance from Christonya Kinsey.